You never thought about this much before, but the stakes are higher now. Do I need to brush? What kind of brush? How do I brush, and how often? We have answers.
Hair Type
If you have super-curly hair, braids or dreadlocks you're not going to be brushing much or maybe ever. For most other hair types, here's what you need to know: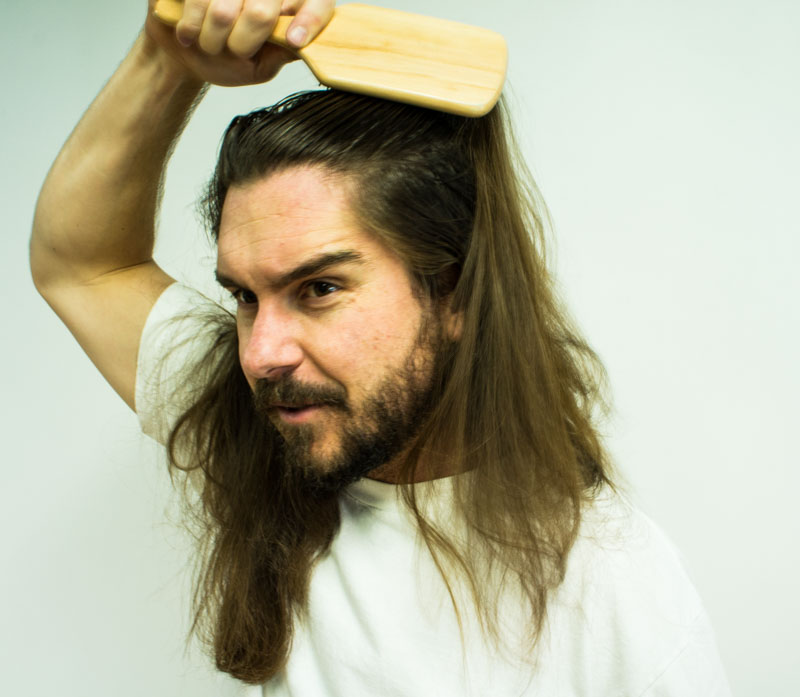 Yes or No?
Yes. Brushing detangles and helps keep your mane neat and orderly. Even if you don't care about those things it's good for your hair and scalp to brush occasionally. It helps distribute the natural oil sebum your scalp produces through to the ends of your hair. Brushing properly also massages the scalp, promoting blood flow and stimulating hair follicles. And who doesn't want stimulated hair follicles?
Brush Type
You might hear about "boar bristle" brushes. There's a lot of hype around these, but they actually create friction with hair strands and cause more damage than plastic bristles. You want to reduce the friction and stress on your hair while brushing or combing.
A brush with ball-tipped plastic bristles is the way to go. A wide-toothed comb is also essential to have in your quiver for when your hair is wet.
Frequency
You want to brush regularly but not more than necessary. Every time you brush you leave some of your hair in the brush. Some is already dead and it's good to clear out, but some is broken off and some ripped out. That's damage, no good. Once a day is plenty.
Technique
Always brush your hair when it's dry. It's more fragile when it's wet and more likely to break from brushing. Wet hair should be combed with a wide-toothed comb.
More tangled = more damage. Use conditioner or spray-in detangler to reduce tangling. For extreme tangles due to aggressive hair-whipping you can comb in the shower while the conditioner is still in.
Start at the tips. Brush them out gently and work your way closer to the scalp as you remove tangles.
Massage your scalp while brushing.
Curly hair can be combed in the shower using a wide tooth comb while the conditioner is still in. Technique is the same: start at the end and work your way towards the scalp.
Finally, don't overbrush. As tempting as it might be to brush those gorgeous locks for hours on end, each brushstroke is more friction and stress, so once you've got it all brushed out save the rest for next time.
---
Anything to add? Comments would be a perfect place for that.