A SHAMPOO & CONDITIONER REVIEW FROM A GUY WHO ACTUALLY USED THE SHAMPOO & CONDITIONER
Glad you made it here. If you did a quick search for "shampoo & conditioner reviews for men," you probably found about 100 articles claiming, "The Best Shampoo for Men," "Best Shampoos for Men You Should Try," and, "Top 5 Best Men's Shampoo & Conditioner."
If you combed through those like I did, you might not have found a single "author" of all these "reviews" who actually tested any of the products. What I discovered was mostly a complex web of keywords, backlinks, affiliate marketing and SEO tactics.
Well Buster Brown, you can bet your follicle freedom I wouldn't do ya like that.
-El Rubio, Chief Manetenance Officer for The Longhairs
Pictured before & after The Great Cut
Over the preceding year I have personally and painstakingly tested dozens of shampoo and conditioner products, putting my precious locks on the line to better understand what's out there—much like we did in the development of our world famous Hair Ties For Guys.
Here I have compiled my observations and reviews of 10 shampoo & conditioner products.
There are literally thousands of options out there, I couldn't possibly review them all. My hope was to get a cross-section of different brands, and while generally geared toward "men's" shampoo & conditioner, I tested and reviewed both women's and men's products.
Though some of these products were sent to us, we have not been compensated by anyone for anything. In cases where we've linked to products reviewed, these are not affiliate links.
By the same token, the approach toward these reviews is intended to be unbiased. We mean no ill-will toward any company or person, I've just called 'em like I've seen 'em.
Neutralities stated, the results of this testing have led us to the development of our own line of shampoo & conditioner.
After the other brand reviews, I'll share what we were looking for in the development of our own products, then review them as well.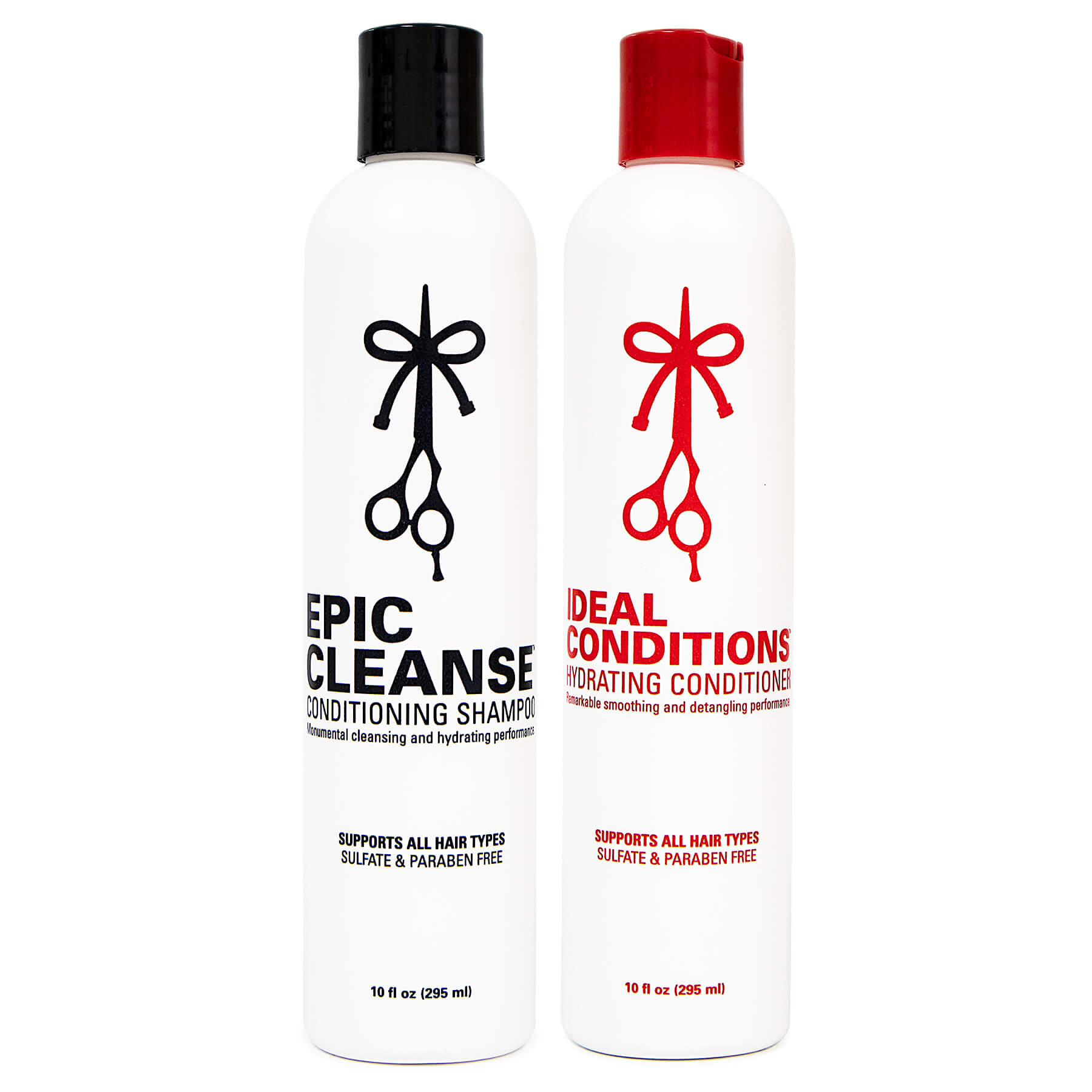 Long blonde hair with the following characteristics:
Thick
Fine
Super straight
Average to slightly oily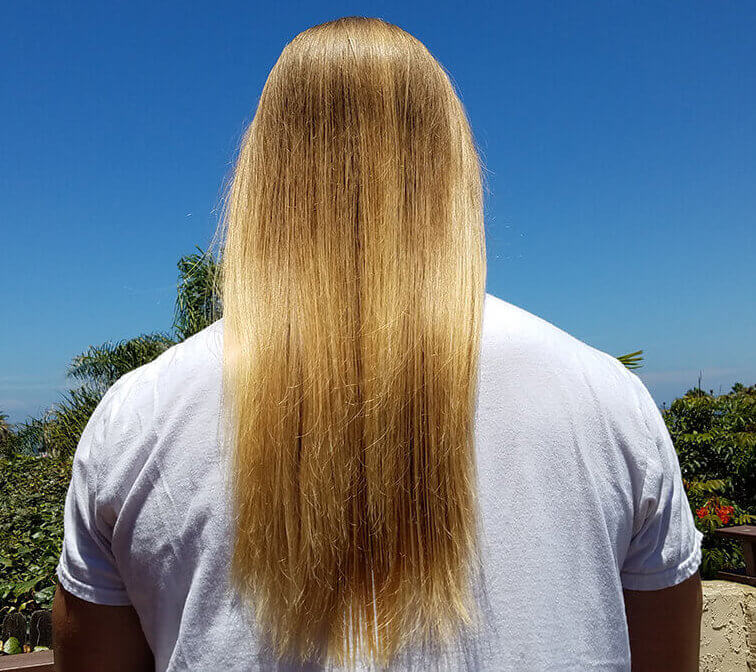 Over the testing period I used each product at least twice, often three times or more.
I developed a grading rubric to help define the industry lingo I would use to review the products: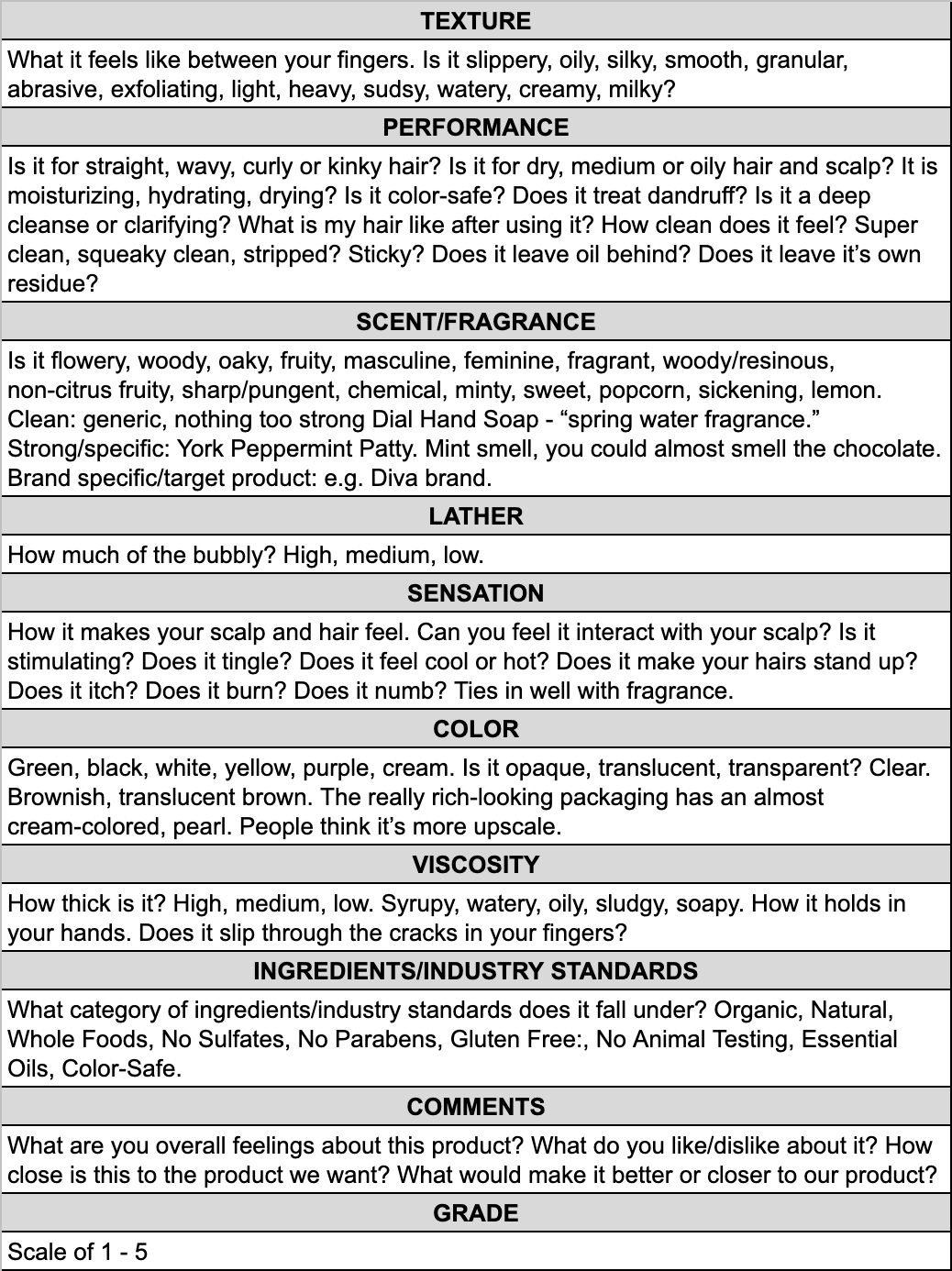 In addition to the grading rubric, here are some common terms and what they mean in the context of shampoo and conditioner products in the United States.
USDA regulations include a
definition of "organic"
and provide for certification that agricultural ingredients have been produced under conditions that would meet the definition, including labeling standards based on the percentage of organic ingredients in a product.
The FTC prohibits companies from misrepresenting the extent to which any product contains natural or synthetic components, including terms like all-natural or 100% natural.
These terms often have little relevance within the context of shampoo & conditioner. Arsenic is all natural but I'm not putting that shit in my hair. "All natural" does not necessarily mean better.
Parabens
are a family of related chemicals that are commonly used as preservatives to increase the shelf life of many cosmetic products. There is some debate as to the safety of parabens.
Sulfates are harsh chemical cleansing agents found in household cleaners, detergents and cosmetics. Sulfates commonly used in shampoo & conditioner include sodium lauryl sulfate and sodium laureth sulfate, which can strip, dry and damage your hair.
Cruelty Free/Not Tested on Animals
There are no federal legal definitions for these terms, so companies can pretty much say whatever they want.
The FTC regulates claims that a product is of U.S. origin, traditionally using the standard that a product be "all or virtually all" made in the U.S.
Other terms include vegan, gluten free and
hypoallergenic
. You can figure those out on your own if you want to dive even deeper.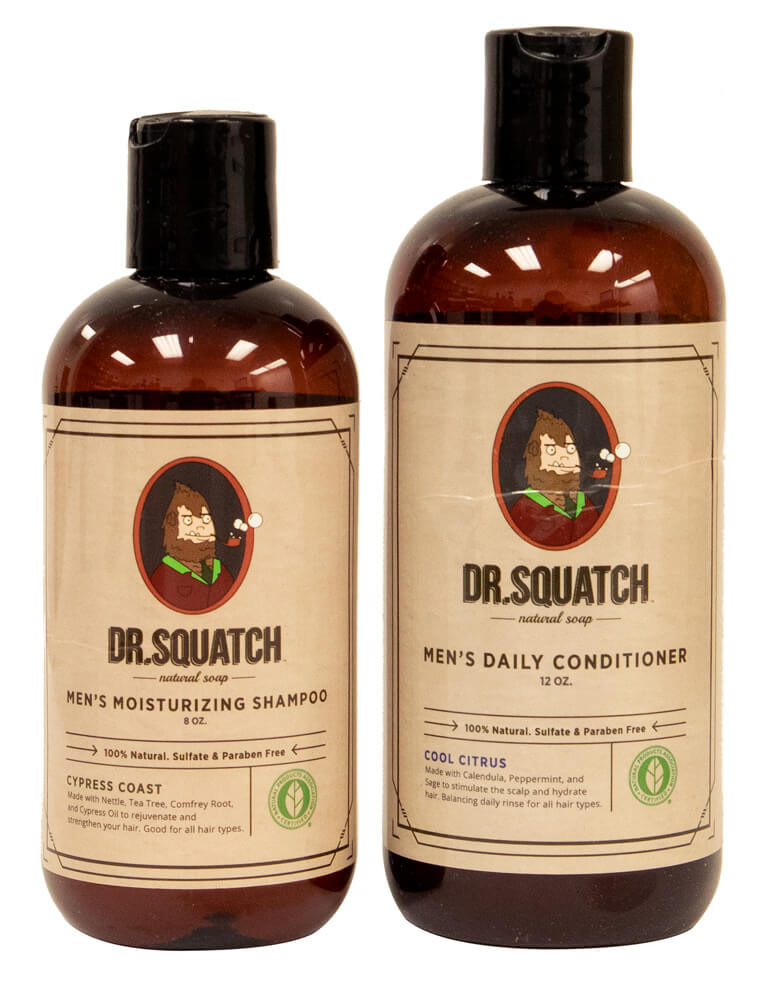 We got these products direct from Dr. S. himself through a friend who met him at a swanky networking mixer.
DR. SQUATCH MEN'S MOISTURIZING SHAMPOO
100% Natural, Sulfate & Paraben Free
The fragrance is "Cypress Coast," "Made with nettle, tea tree, comfrey root, and cypress oil to rejuvenate and strengthen your hair. Good for all hair types."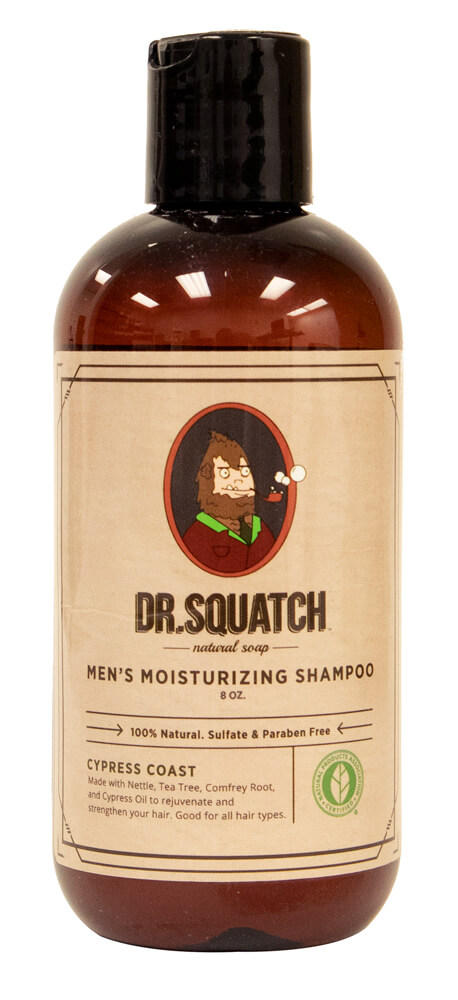 Opening the bottle you can smell the minty fragrance, definitely a natural smell.
The solution is a clear, thin liquid. Like hand sanitizer but slightly thicker. It would easily drain through the cracks in your fingers.
Massaging it into my scalp and the roots of my hair it produced a thin lather. Small bubbles rather than big bubbles, not a whole lot of texture. But more lather than a no-lather type.
Deep in my scalp and roots I let it sit for a little while to get the full experience. A tingling sensation, especially noticeable with a cool breeze coming in through the open window. The fragrance fills the entire shower, you can even feel it as you breathe in, like Vicks vapor rub.
It feels almost dry. Obviously my hair is wet, and I'm not saying it IS dry, but it feels dry. Almost that squeaky, rubby clean. Where it would make a sound if you rubbed it, like sliding your finger across a window pane. An unlubricated feel, not exactly rough, but friction.
Rinsed out clean with no residue, my hair and scalp felt noticeably cleansed. Nice feeling while wet, I could still feel the tingling.
DR. SQUATCH MEN'S DAILY CONDITIONER
100% Natural, Sulfate & Paraben Free
The fragrance is "Cool Citrus," "made with calendula, peppermint, and sage to stimulate the scalp and hydrate hair. Balancing daily rinse for all hair types."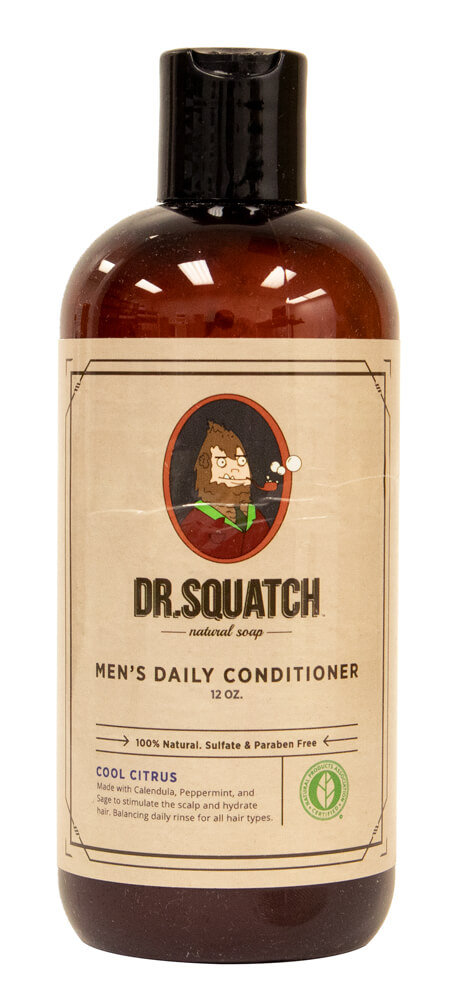 Again right from opening the bottle you can smell the herby fragrance, certainly the tea tree.
Also thin but white, like watered down sour cream.
Massaging into the lengths of my hair it felt very thin. As opposed to a thick, rich lather lubricating with depth and substance, it was watery, milky, didn't feel like there was much of anything in my hair.
I let it sit for a few minutes. When I reached back to rinse my hair, it almost felt like there was nothing in it. Not saying that's bad, but it just felt wet.
Not putting it on my scalp but the lengths only, I couldn't tell the sensation quite as much, although I know it was still tingling because I could feel it on the back of my neck.
Thin, fragrant, stimulating. Similar experience with the squeaky clean, it didn't feel super smooth.
Again with the fragrance and tingling sensation. Especially with a breeze, boy that's nice!
While I don't mind the lack of lather, I don't love the texture of the lather.
As I was blowdrying my hair I had a consistent experience. It felt decidedly sticky. As I tried to run my fingers through they got caught and hung up.
As my hair dried this experience diminished, but I was left with a feeling it didn't rinse out entirely.
Did it comb out easily? It combed out ok. Still a little rough. Not super easy to get the tangles out. Even the next day, with no serum it was not easy to comb through.
How did it look? It looked almost like hay, an earthy, golden appearance with some shine. It was very natural, if not smooth. Felt straw-like.
This is a very nice brand. With these products I can feel the "all natural," which carries some appeal. I do like it for the natural experience, the sensation, fragrance and cleanliness. I don't love the texture, viscosity or lather.
The overall performance is good. Really nice stuff, just not my personal favorite. I want something that's going to coat and lubricate my hair, feel a thick conditioning agent in there. I also want to it rinse clean and comb out effortlessly.
Might be a better product for guys with short hair (try their soap though, it's excellent).
[optin-monster-shortcode id="shbdsfepo1kca34ugy6v"]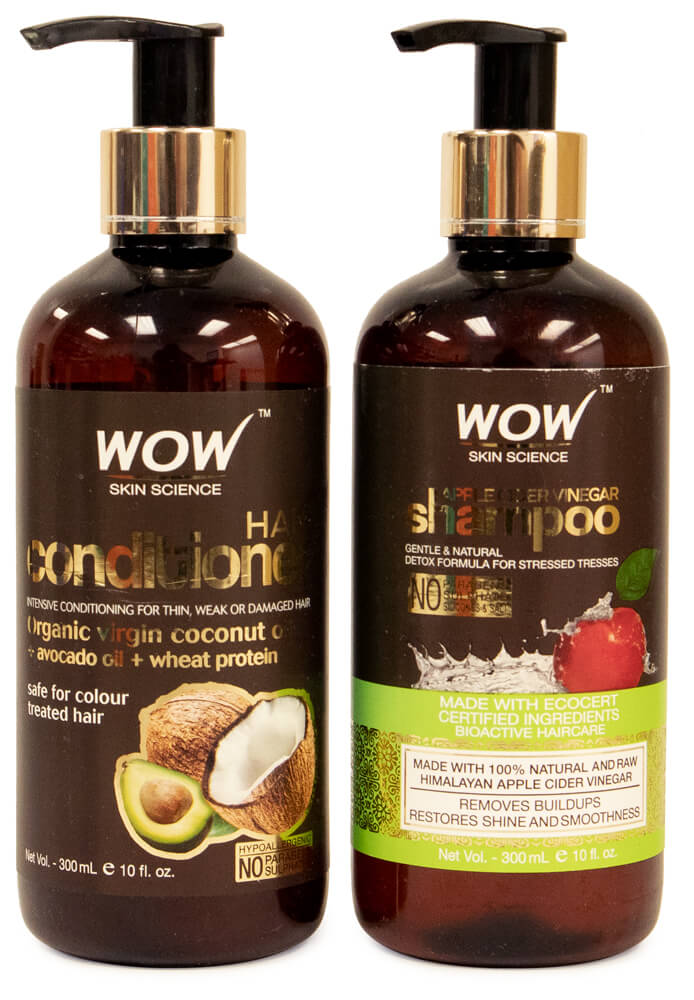 We got this from the WOW company who sent it to us requesting a review.
WOW APPLE CIDER VINEGAR SHAMPOO
The first thing I notice is an incredibly busy label. Just to give you an example, the words on the front label include:
WOW Skin Science
Apple Cider Vinegar Shampoo
Gentle & Natural
Detox formula for stressed tresses
No parabens
No sulphates
No silicones & salt

Made with ecocert certified ingredients
Bioactive Haircare
Made with 100% natural and raw himalayan apple cider vinegar
Removes buildups restores shine and smoothness
WOW is right! That's a lot of claims, and there is a lot more text on the back. Here I'm thinking, this stuff must be amazing!

Fragrance was not super strong, but a soft, soapy smell with a hint of spice, the apple cider no doubt.
Super thick and golden, like honey.
Massaging into my scalp was like rubbing honey into my hair, though not so sticky. It really lathered in there. Ultra thick lather, but not super sudsy, foaming or building.
If you fill up a sponge with dishwashing liquid and start working it, but before it gets ultra sudsy, that middle stage when it's still really thick. Nice, full-bodied texture.
Felt like it rinsed out clean. My hair definitely felt clean, like the formula had thoroughly cleansed, but it did not feel stripped. Clean but not that sticky, rough clean.
Same deal here:
WOW Skin Science
Hair Conditioner
Intensive conditioning for thin, weak or damaged hair
Organic virgin coconut oil + avocado oil + wheat protein
Safe for colour treated hair
Hypoallergenic
No parabens
No Sulphates
Setting the expectations pretty high, team.

Really nice fragrance, you can definitely smell a rich coconut scent.
Texture is ultra thick and creamy, even thicker than the shampoo, almost like bearing grease. In fact it was so thick that it won't even come out of the pump dispenser, I literally had to twist the cap off and slam it around like a bottle of ketchup.
Completely and utterly coated the lengths of my hair. Really nice, like my hair was just soaking in a bowl of heavy cream. There was no doubt it was completely penetrating the hair.
Rinsing it felt very soft and smooth, though my hair still felt heavier, even heavier than when it's just wet with water.
After drying and combing the results were very nice. Smooth, soft, shiny. Pretty easy to comb through. There did still seem to be a slight heaviness. Running my fingers through I can still feel a buildup or residue. Very good performance otherwise.
Lasting scent is pleasant, but not too strong.
Nice stuff, but thick, heavy buildup. Too gunky, made my hair feel heavy. Combing and brushing felt like more of a chore getting through all the stuff. Might be better for occasional, change-of-pace use, but too much leftover gunk for regular use.
Might also be good for shorter hair, or people with thinning or super fine hair.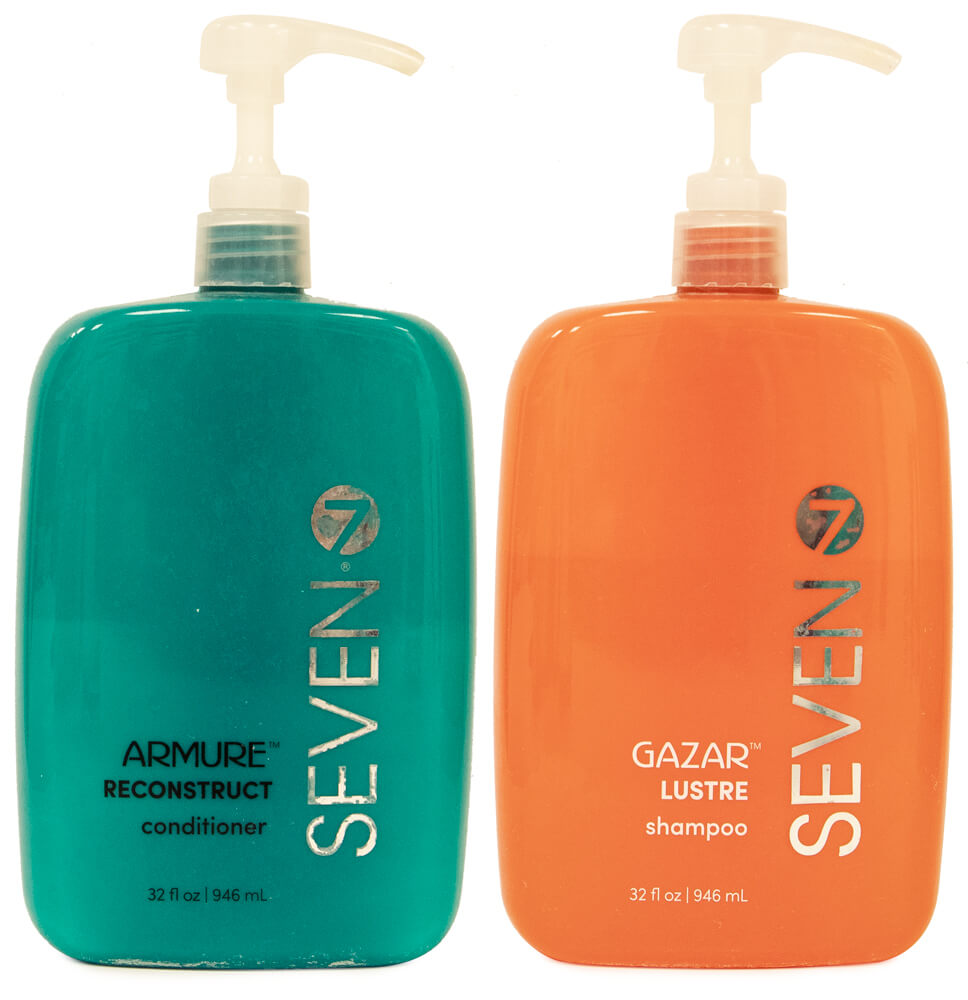 A salon brand recommended by my most trusted hair professional.
A 32 oz colored bottle with pump top dispenser and super basic labeling. In fact everything that's on the label is in the title above.
The back is also limited to brief instructions, ingredients and a tagline: the definition of style is you.
While it provides less information, after reading the labels on many of these other brands it's refreshing to not get pounded with truckloads of marketing messages on the bottle.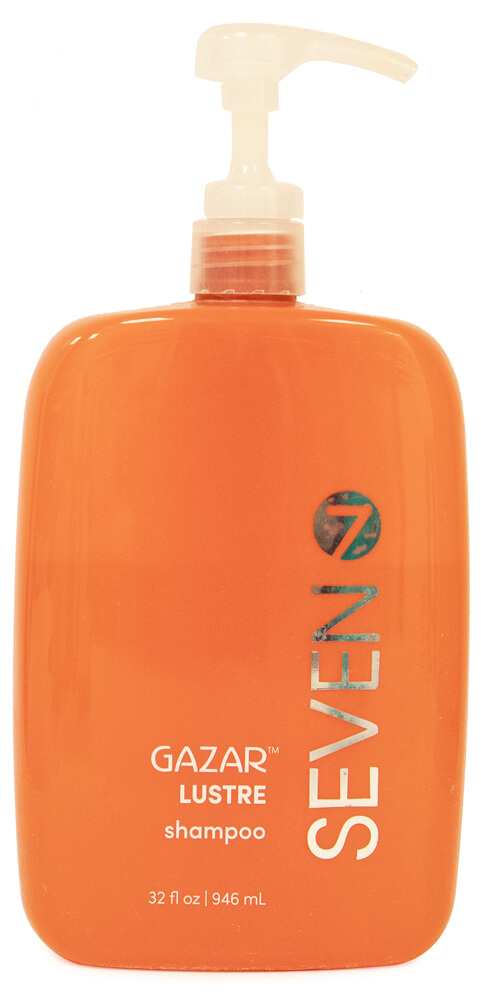 Not a strong fragrance, just a light soapy scent.
Thick, nice. Clear, like alien mucus/jelly. It would run through the cracks in your fingers, but slowly.
Massaging it in built a super thick lather, not a sudsy lather, more like an oil slick. It built depth. Full coverage and penetration. It felt like a quality formula on my head and scalp.
Rinsing it out felt totally clean and completely rinsed. Not a squeaky, rough clean, not an oily clean, just clean. Like everything had been cleansed from my head and scalp, but not harshly.
ARMURE RECONSTRUCT CONDITIONER
Same deal with the label, only the product name and brief instructions on the reverse.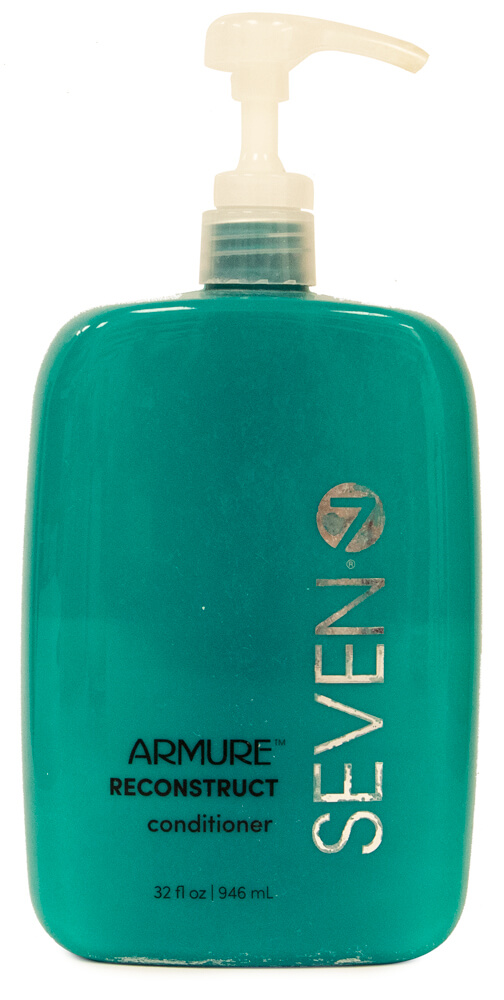 A pleasant coconut scent, not super strong but unmistakably present.
Ultra thick and creamy, white. In fact it's not even liquid. It's like if you took a glue stick out of its container and mashed it up in your hand.
This stuff coats your hair like nothing else. I mean full coverage, lubrication, it is just in there. A real treat.
Really fabulous stuff. If there is any downside I could say the fragrance is just slightly more feminine than masculine, even so it's still quite pleasant.
Excellent quality formula and a top performer. Could use this brand going forward and be just fine. If you care about your hair, this is the kind of stuff you want to be using.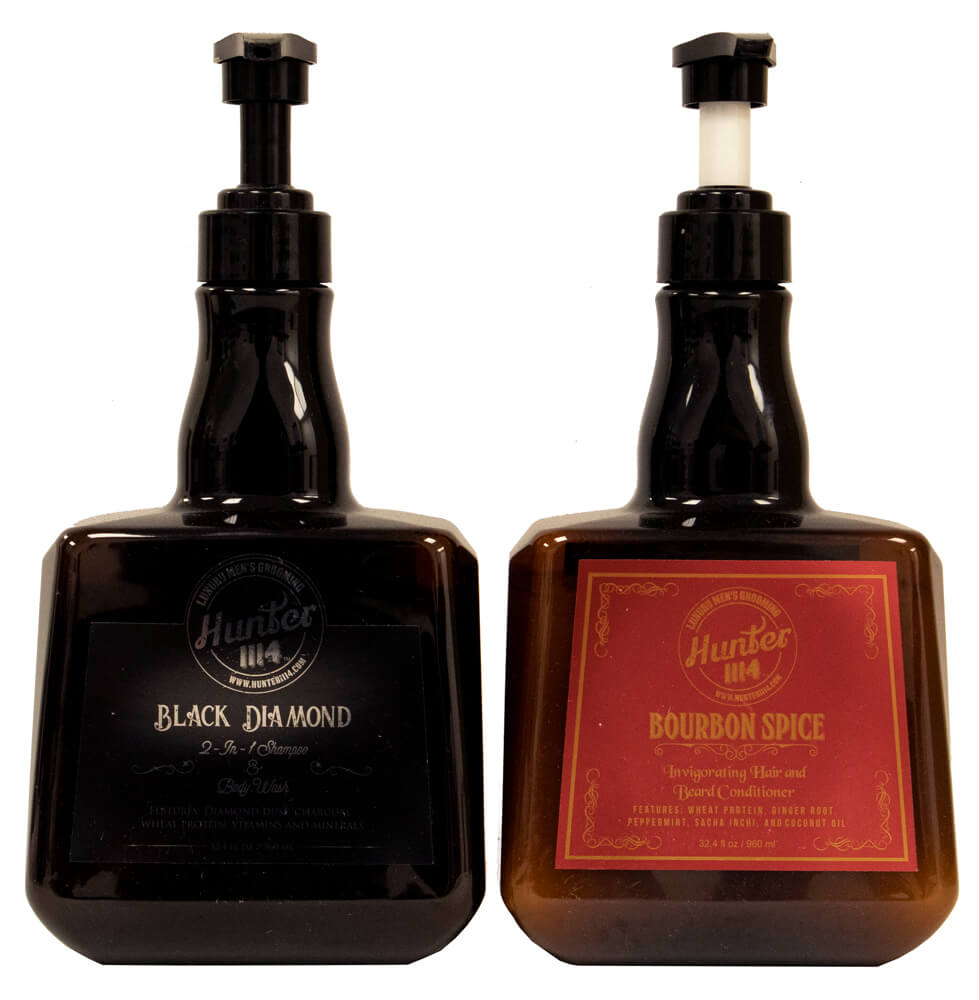 We acquired this product at the Premiere Hair & Beauty show in Orlando.
BLACK DIAMOND 2-IN-1 SHAMPOO & BODY WASH
Luxury Men's Grooming
Features: Diamond Dust, Charcoal, Wheat Protein, Vitamins And Minerals
Pretty underwhelming.
On the reverse:
Black Diamond 2-in-1 Shampoo and Body Wash is perfect for the man on the go. Whether it is at the gym, in your travel bag or your go-to product in the shower, Black Diamond provides all the luxury benefits a man needs.
Based on the copy alone it was hard for me to take this brand seriously. It struck me as lazy and without much thought, as if buzzwords like "gym" and "travel bag" will connect me to their brand.
The sulfates Sodium Laureth Sulfate and Ammonium Lauryl Sulfate are listed in the ingredients, so I already know this is not a product I would use. For the sake of this review I still used the products.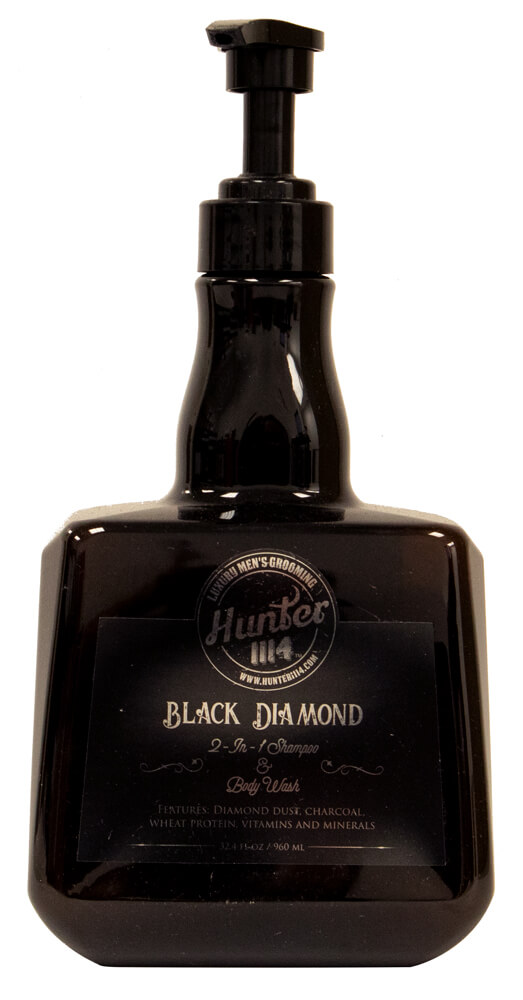 No discernable fragrance.
First of all it's black with sparkling "diamond dust," does this, like, have silica in it? Are the diamonds going to cut my head? What's it going to do to my hair?
Thick and globby with a nice, full texture.
Massaging into my scalp and hair produced a soapy, sudsy, thick lather.
Squeaky clean. Dried out. Not lovely.
BOURBON SPICE INVIGORATING HAIR AND BEARD CONDITIONER
Invigorating Hair and Beard Conditioner
Features: Wheat Protein, Ginger Root, Peppermint, Sacha Inchi, And Coconut Oil
On the reverse: Infused with conditioning properties, our Bourbon Spice stimulates the scalp and skin with ginger root & peppermint extracts. This conditioner is cocktailed with natural herbs and spices that promote healthy hair and beard growth.
Application: Hair: After shampooing, massage a small amount onto scalp in circular motion until distributed evenly. Let product sit for 2 minutes and rinse well. Beard: Using warm water, lather up a small amount of Bourbon Spice and massage, rinse well.
Again I immediately had problems with the copy. First of all, that's not even a proper conditioning technique. If they didn't take the care to really understand this industry, what does that say about their product?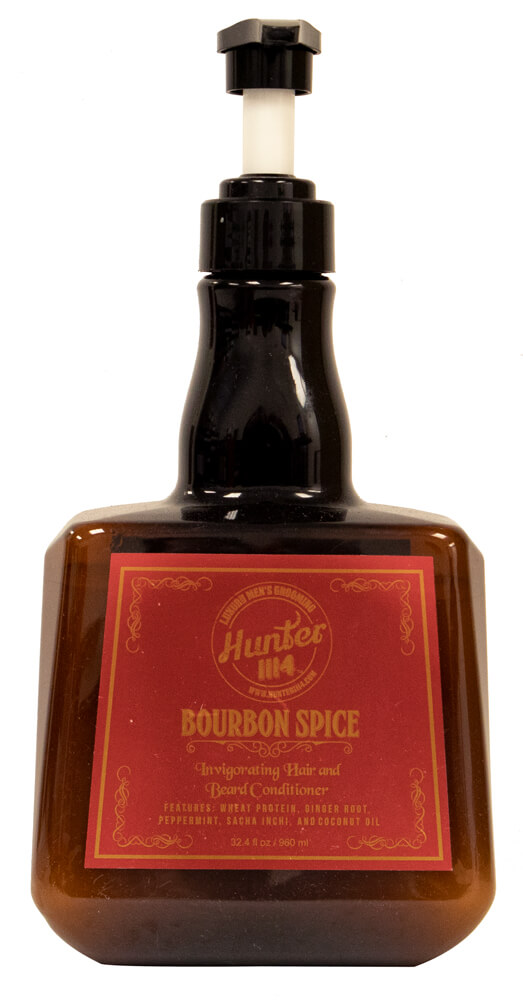 I could smell the peppermint.
Thick and white.
Coated my hair. I could smell the peppermint and ginger root, felt nice enough.
Softened my hair after using the shampoo. Smoothing and detangling properties mitigated the effects of the shampoo. Did not feel the slightest bit buzzed despite the bourbon spice.
Initially a shaving and beard care brand, I feel like this company wanted to expand their product line to shampoo & conditioner, slapped some ingredients together, wrote some marketing language they thought would appeal to men and called it a "luxury grooming" product.
The fact the shampoo is sold as shampoo and body wash, and the conditioner sold as hair and beard conditioner, does not inspire confidence that these are quality hair products.
Might be fine for super short hair, would not recommend for long hair. Might be worth trying their shaving and facial care products.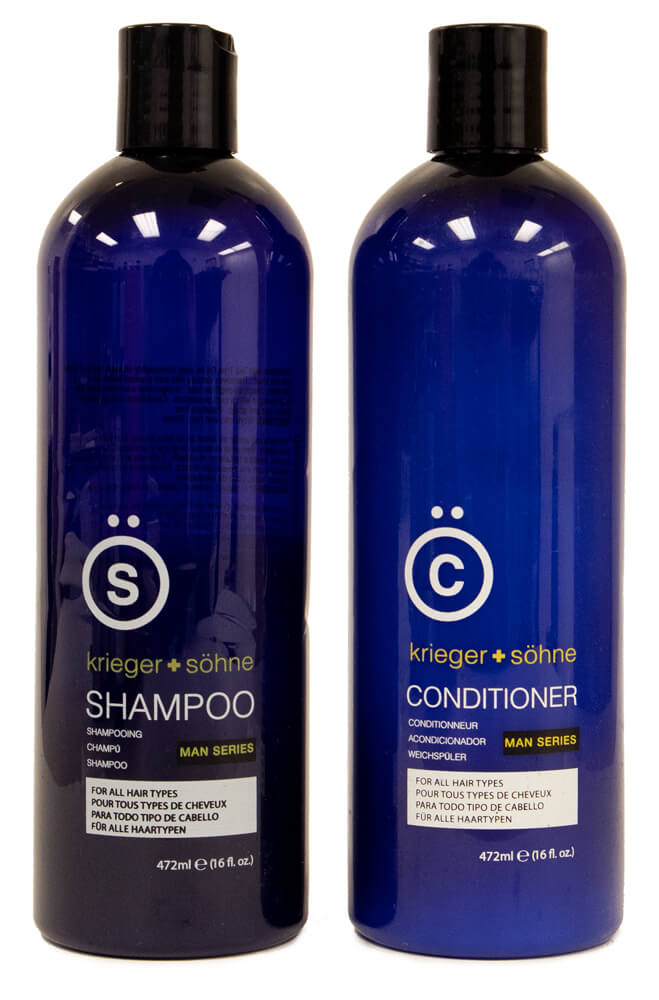 I found this product searching on Amazon for men's shampoo and conditioner.
Man Series
For All Hair Types
Everything on the bottle is in English, Spanish, French and German...which I found interesting considering the company is listed in Alpharetta, GA, (a seemingly common marketing tactic in the shampoo & conditioner industry).
On the reverse is a paragraph about the formulation, with emphasis on Tea Tree Oil and the list of ingredients, which include Sodium Laureth Sulfate and Ammonium Lauryl Sulfate, immediately indicating this is not a product I would use.

Strong tea tree scent, minty, you can feel the sensation breathing it in.
Silvery and soapy, like pump-action hand soap. Opening the bottle and squeezing the shampoo out the space is pretty quickly filled with the strong tea tree/minty vapor, a pretty nice experience.
Massaging into the scalp and hair produced a medium to light lather, not really sudsy just a bit foamy. The lather decreased as the formula was in my hair.
I could quickly feel the tingling sensation, again pretty nice. I let it sit for two minutes or so, tingly. Especially with the window open and a little breeze tingly and very cool.
Should have used the hand soap. Rinsing it out my hair felt stripped clean. It felt squeaky, almost sticky, rough rubbing my fingers across. I can actually hear the squeaky, like when you rub against a floaty toy in the pool. Feels stripped, not nice. Running my fingers through they get caught up.
Imagine dragging your fingers across a smooth surface where they glide effortlessly, vs. a surface that causes more friction, almost sticky, where your fingers would jump and dart as they break friction on the surface. That's what my hair felt like.
krieger + söhne CONDITIONER
Man Series
For All Hair Types
On the reverse is a paragraph about the formulation, Peppermint Oil gives the scalp a cool, soothing, relaxing feeling.
This was a problem for me because proper conditioning technique would not have you applying conditioner to your scalp.

Similar to the shampoo but with a hint more peppermint than tea tree. Minty but not as prevalent as the shampoo, didn't have the strong, fill the shower vapor.
Creamy, pasty white, pretty smooth. Consistency was blotchy, pasty. Not bad.
Coated the hair well, hair felt smooth with the conditioner in there, but not ultra-smooth, like I could almost feel micro-minerals in there. Conditioner was pretty ok.
After blowdrying, my hair felt softer and detangled. However, it was dry and frazzled. My scalp felt dry and tight, like the skin was stretching. Even the color seemed to have lost some shine.
The fragrance didn't hold so much after the fact.
I will give them credit for creating a very nice looking brand, a convincing marketing campaign, good photography, videos, an all-around nice job...except the product.
Whether it was the cost of a quality product or a failure to research or whatever the reason, the product itself is not good. If they spent just a little bit more they could have had a product that lived up to the marketing.
As a result, I won't put this stuff in my hair again and would not recommend for anyone who cares about their hair.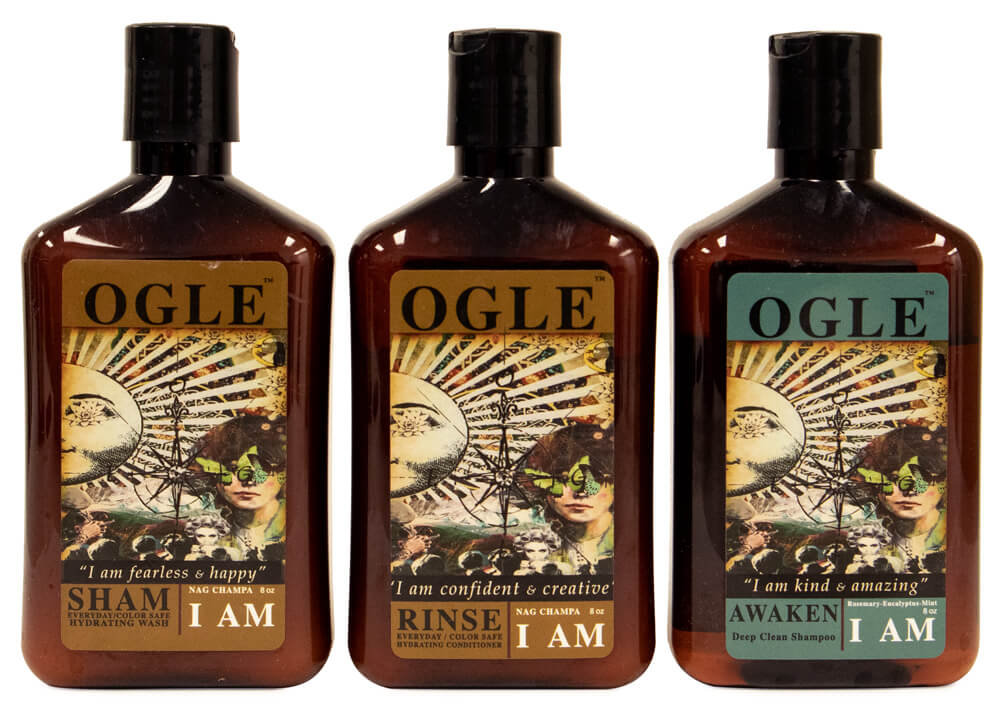 We procured this brand at the ABS hair and beauty show in Chicago. The first thing I noticed is there are three products; a shampoo and conditioner as well as a deep clean shampoo.
OGLE SHAM Everyday/Color Safe Hydrating Wash
"I am fearless & happy," which I found inspiring
Nag Champa
I AM
On the reverse is a short description emphasizing a silky feel and a smooth touch.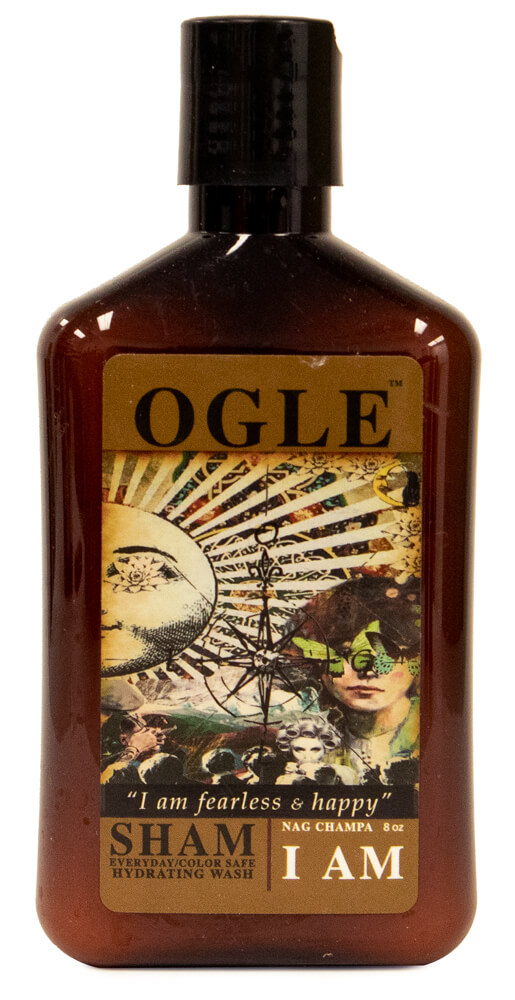 It does in fact smell just like the ancient nag champa incense you burned in your room to cover up the weed smell. It's quite lovely, though I never would have thought of putting in my hair.
Super thin and milky. Must have been the thinnest shampoo I've ever used, I actually had to cup my hand into a reservoir, fill it with shampoo and slap it onto my head quickly so it wouldn't run down the drain.
Despite being so thin it actually lathered up pretty nice and thick, surprisingly so. Massaging it into the scalp it coated everything nicely.
After rinsing my hair felt very clean, a little squeaky but not super squeaky. Felt cleansed. Possibly a little overstripped.
OGLE RINSE EVERYDAY/COLOR SAFE HYDRATING CONDITIONER
"I am confident & creative," also inspiring
Nag Champa
I AM
On the reverse:
Natural gloss and infused hydration.
Dang! Infused hydration, this stuff must be insane!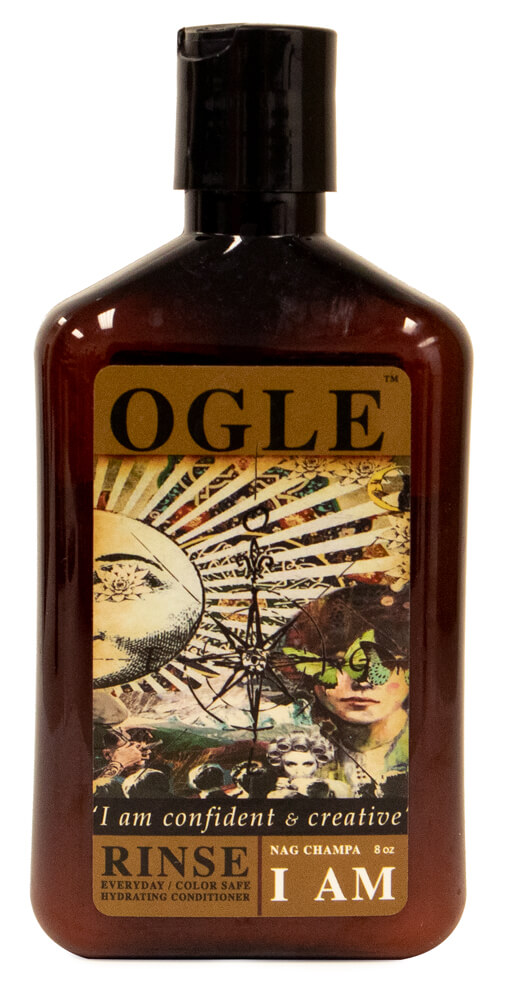 The scent of nag champa filled the space, which I found delightful.
Thicker, nice, off-white, a tint of yellowish, creamy. Massaged into the lengths nicely, a thick, enveloping coating.
With the conditioner in my hair felt very smooth, but also more earthy, natural.
Light, soft, airy. Love the lingering fragrance. Very nice.
OGLE AWAKEN DEEP CLEAN SHAMPOO
"I am kind & amazing"
Rosemary-Eucalyptus-Mint
I AM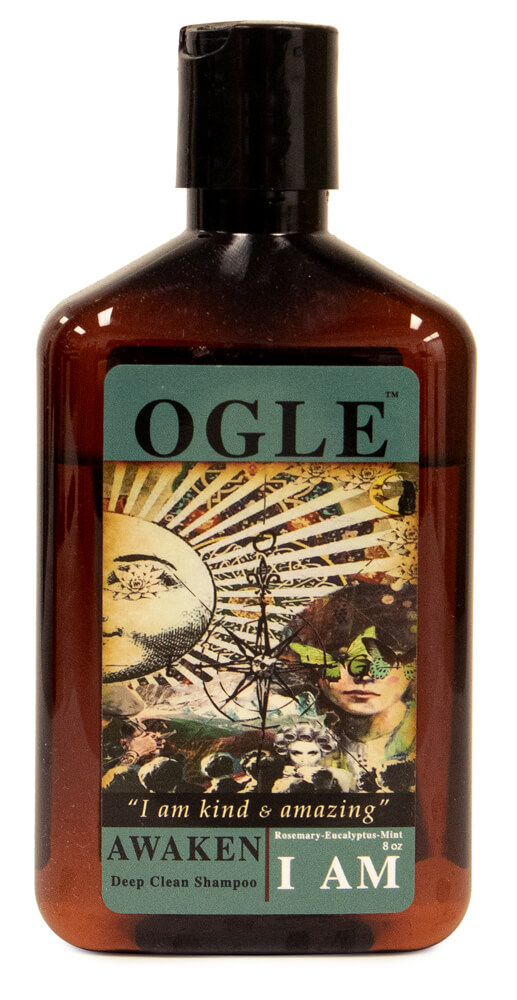 Strong mint with tones of the rosemary and eucalyptus.
Very different from the "daily" shampoo. Thicker, far more texture and substance.
A little bit of that dryer, stripped, squeaky feeling, perhaps to be expected for a clarifying/deep cleanse shampoo.
It's certainly clean, if perhaps overstripped. Ultimately it's a little dry and frizzy. Not like dried out chemically, like it was left on a bed of salt or minerals that just suck the moisture out, like living in Phoenix.
A good brand experience. I loved the fragrances, the natural feel, even the performance to a degree, even though I was left a bit dried out. I also like having a deep cleanse product, not for daily use but when you really want a deep clean.
Not a product line I would use regularly, but I enjoyed testing it and appreciated the clear effort that was put into the formulation. For what it's worth the labeling was entertaining. Certainly worth a try.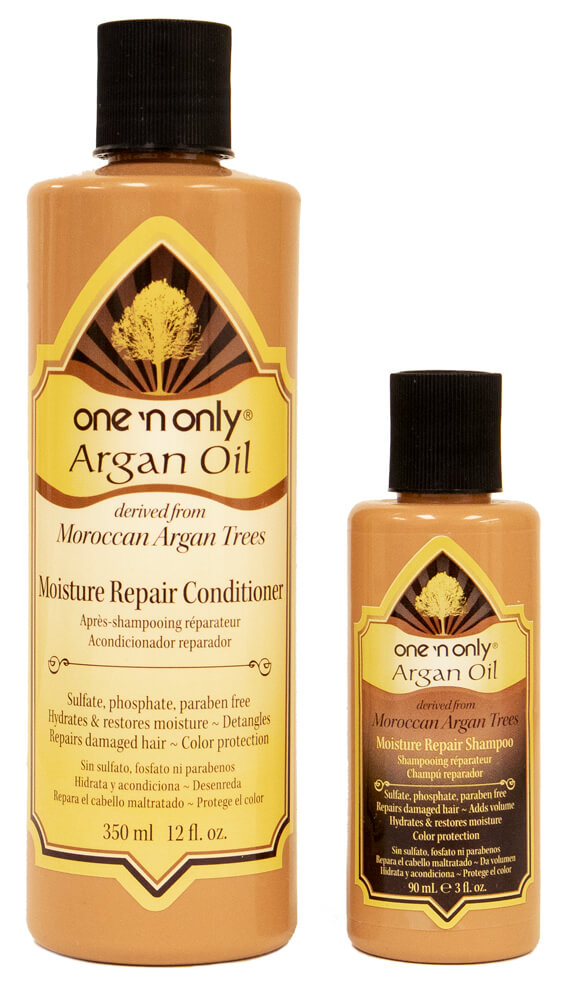 I used this brand almost exclusively the first time growing my hair out, and I've always liked it. Having not used it for a few years it was interesting to come back and compare to all these other brands.
one 'n only
Argan Oil
Derived from Moroccan Argan Trees
Moisture Repair Shampoo
Sulphate, phosphate, paraben free
Repairs damaged hair - Adds volume
Hydrates & restores moisture
Color protection
And the same in two other languages. To be honest it feels like they just threw every freakin thing they could on the label. Even so these are some ambitious claims so let's see what they got.
On reverse:
A gentle cleansing formula that hydrates and restores moisture levels, improving overall health and appearance of the hair.
And so on.

A subtle, earthy, natural, almost like incense in the same neighborhood as Ogle.
Not too thick, not too thin. Jellylike texture, clearish with a hint of amber. It would eventually slip through your fingers but only gradually.
Quite interesting, there is absolutely zero lather. Massaging into the roots and scalp I could feel it getting in there but no suds or foam whatsoever. Instead it almost felt like it mingled or absorbed into my hair. Once it was all in there I almost couldn't even tell there was anything in my hair.
Rinses out clean and doesn't have that squeaky feeling. Fingers glide over wet hair smoothly and silently. It's not a harsh cleanse by any stretch, very gentle. Hair felt clean but not starched out clean.
MOISTURE REPAIR CONDITIONER
one 'n only
Argan Oil
Derived from Moroccan Argan Trees
Moisture Repair Conditioner
Sulfate, phosphate, paraben free
Hydrates & restores moisture, detangles, repairs damaged hair, color protection.
On reverse:
A daily conditioner that helps reconstruct the hair, detangles and replenishes moisture levels. Helps condition and smooth the cuticle, repairing split ends. Improves shine and manageability. Provides color protection.
Really got everything there guys.

A notably difference scent from the shampoo, but equally earthy, natural, almost like incense, with a stronger influence. Very nice but not overpowering.
Creamy off white, denser but not super thick.
Similar to the shampoo, after applying to the lengths the conditioner is almost absorbed by the hair. Very smooth but not slick. Pleasant.
Soft, thick, healthy. Frizz is dampened. Fingers glide through smoothly with no catching. Looks and feels amazing. I can still feel that little bit of oily residue on my fingers after running them through my hair, although it didn't make my hair feel heavy or gunky.
I quite like this brand and their products. The only downside is that little bit of residue left at the end, but that is far preferred over a dried-out, stripped or squeaky feeling. I feel like my hair is hydrated and moisturized, and the frizz-dampening effects are welcome. High ratings, definitely worth trying and potential for regular go-to use.
We learned about Miracle Flow some years ago, a shampoo designed "for guys with flow," with frequent references to hockey hair. These guys are funny, their brand is punchy, their social media is entertaining. I was excited to try their product.
Excellent logo. Great branding. Something I can buy into.
Unfortunately, the ingredients reveal the product is loaded with sulfates.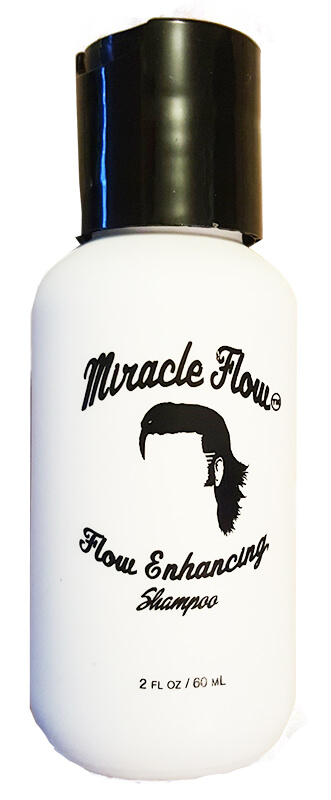 Soapy with a subtle fragrance.
Soapy, basically like hand soap.
Soapy, sudsy, foamy with medium lather.
Like washing my hair with dishwasher detergent. It was definitely clean, but dried out and stripped.
Miracle Flow does not offer a conditioner product.
I like these guys and their brand. Unfortunately their product is more of a gag or gimmick than something I would put in my hair.
Buy some to wash your beard or even for body wash, if for no other reason to support these guys and have some fun with it. I do not recommend for your hair.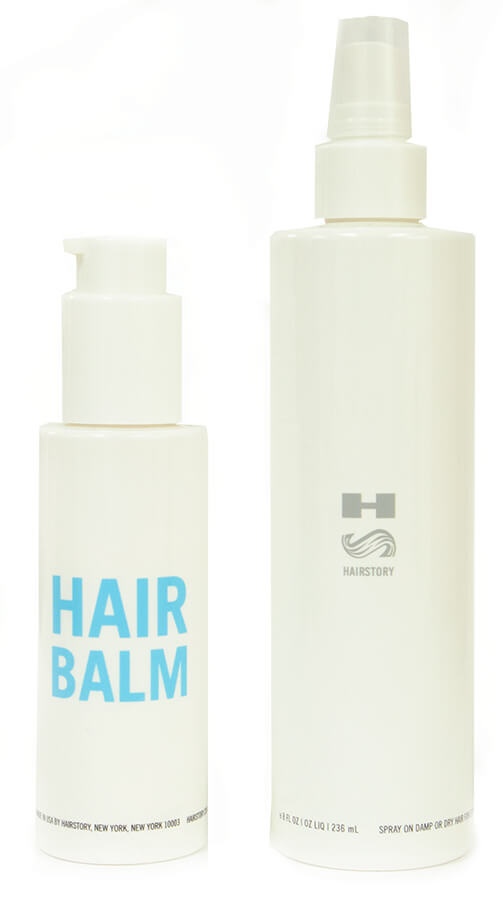 Hair Story is a new and different kind of hair care line, based on the premise that we only need conditioner because the shampoos we use damage our hair, thus requiring conditioner to fix it.
The company sent us their products requesting we review them. Three products are offered:
New Wash: a hair cleanser that's better than shampoo and doesn't require conditioner.
Hair Balm: a massage-in styling product for use after New Wash.
Undressed: a styling spray, presumably in the hair spray stratosphere.
The labels on all three products are super minimal which lends well to their minimalist brand feel. All you see is the brand name, product name and a tiny line of text around the bottom with ultra-brief instructions and manufacturing information.
While the labels are minimal, there is a pamphlet for each product offering more detailed instructions mixed with aspirational fashion descriptives. There is quality writing but wandering between what your experience is going to be like, how to use the product and bashing shampoo.

Zesty, direct, citrusy burst. It doesn't fill the space, but more fragrant when you put it to your nose. A different fragrance than most hair care products, though very nice.
The instructions in the pamphlet mention twice to "use a lot," and "not enough = not clean;" pretty brash if that's simply a way to sell more product, but I took them at face value and used more than I would typically.
Problem was the product comes with this pee-shooter pump top that dispenses a dismally weak little pee stream. No question it would take at least five pumps to use the amount I normally would, but telling me I should really "slather it up" I had to pump the damn thing ten times, pinching my finger twice in the apparatus.
Anyhow, the texture was thick and almost dry. Not at all syrupy or flowy, wouldn't go through your fingers if you left it in your hand for an hour. I could close my hand on it, open my hand back up and it would only stick to the original side. More textured, like what you would see in most conditioners.
Following instructions carefully I slathered up that mane, and as I read in the pamphlet there was no lather or foam or suds or anything, very non-soapy. Similar to one 'n only in the way it feels like it absorbs into your hair. After a while you almost can't feel it's there.
I rinsed thoroughly as instructed, and I could tell why. I really had to rinse to get it out of there.
After rinsing it felt nice and clean. Not squeaky, like that distressed overstripped feeling. Hair felt intact. Refreshed.
Again the label is minimal, but a similar pamphlet with detailed instructions for use along with a philosophical background on its origin, including, "you really can't understand it until you use it."

The same zesty, citrusy scent as New Wash.
Same pump top as New Wash but more practical as the instructions are to start with one pump and add more as you like. More creamy in texture, rubs between your fingers like a light styling cream.
The instructions are to use Hair Balm with damp hair, then let it air dry. I found this interesting because it means I wouldn't have to blow dry after washing my hair, an especially appealing notion the longer your hair is.
Rubbing it into my hair was nice. It absorbed quickly with a pleasant fragrance, a nice compliment to the New Wash. I could feel it in my hair, adding some volume and control, not so strong as a gel or even a mousse, but for example when I pushed my hair back on my head it will stay back slightly.
The instructions say, "you can give it a squeeze occasionally so that it breaks up while drying," which I did and I could feel it breaking up.
Once my hair was dry I could definitely tell the difference. My hair had a little more texture and volume as opposed to falling flat. It wasn't crispy or stiff, but the slightest hold which gave it some life. Into the second and third days it still had that little bit of extra texture.
I did not test the third product in this line.
The Hair Story concept is pretty bold, in what appears to be an attempt to disrupt the hair care industry by eliminating shampoo and conditioner entirely, replacing those products with Hair Story as the alternative.
That's going to be a difficult uphill battle, with consumers accustomed to these products over decades and lots of big companies with lots of money who don't wish to see shampoo & conditioner disappear.
That said, the products themselves were up to the test and I'll give them credit for an ambitious project.
I had a good experience overall. My hair felt clean, without the squeaky, dry, stripped or frazzled feeling. I really liked using Hair Balm almost as an alternative to drying my hair, and the results were positive.
I could see these products being especially nice for medium length hair, though I wonder how the products will hold up with longer hair.
If you are trying to get away from shampoo & conditioner, or if you want to try something new and different, Hair Story is worth a try.
Dove Men+Care / Old Spice / Head & Shoulders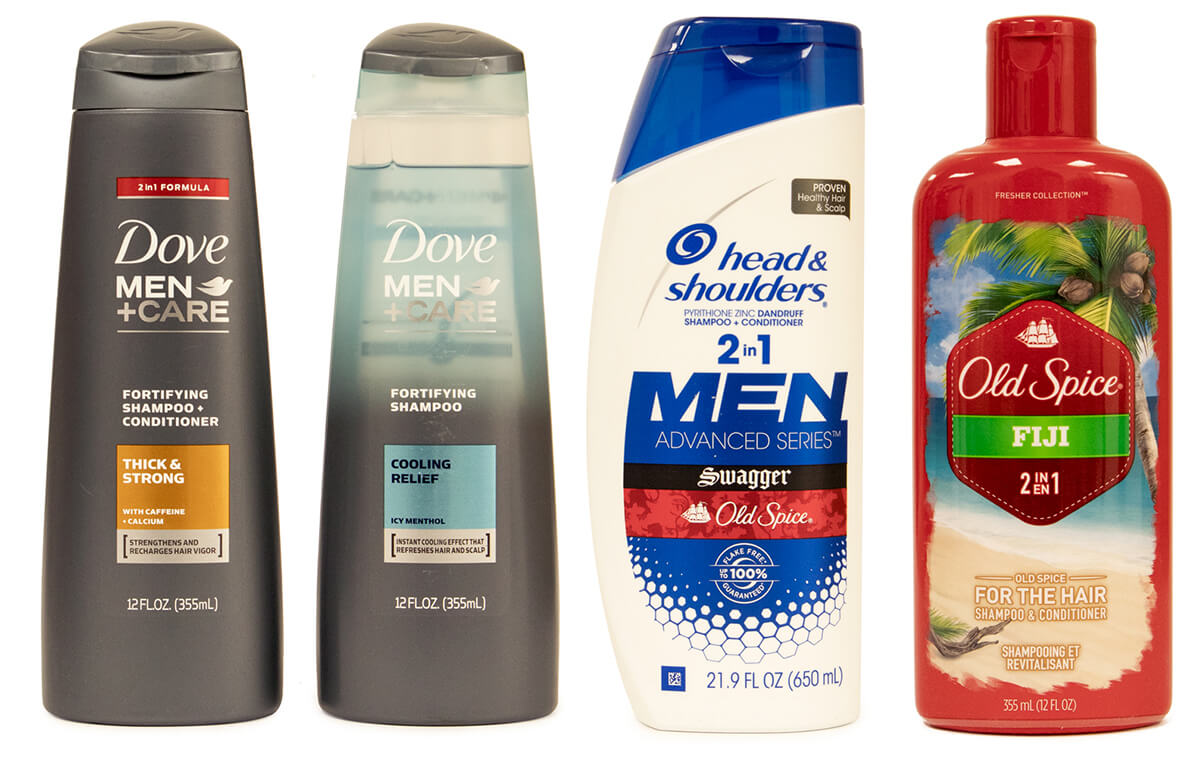 Having tested and reviewed nine smaller and/or local brands, I wanted to test the "mainstream" brands you would typically find at the store. After some online searching to get the lay of the land, I went to a local drug store to see what I could find.
Sure enough I found the three brands most prevalent in my online search for men's shampoo & conditioner: Dove Men+Care, Old Spice and Head & Shoulders.
Between these three brands, the first thing I noticed was that I couldn't find any conditioner. There were several 2-in-1 shampoo + conditioner products, but no conditioner by itself.
In any case, there were a few different fragrances/varieties for each, but essentially the same stuff. Here are the products I chose:
Dove Men+Care Fortifying Shampoo - Cooling Relief Icy Menthol
Dove Men+Care Fortifying Shampoo + Conditioner - Thick & Strong With Caffeine + Calcium
Head & Shoulders Shampoo + Conditioner 2 in 1 Men Advanced Series Swagger Old Spice (I interpreted this as the fragrance)
Old Spice Fiji 2 in 1 Shampoo & Conditioner
The next thing I found was that the second ingredient in all four products were sulfates: sodium laureth sulfate or sodium lauryl sulfate, often with the other of those two also found in the ingredients list.
Initially this came as a surprise, though maybe it should not have. I just figured the big brands would offer higher quality products. Why don't they?
My theory is that most men don't care much about their shampoo & conditioner or their grooming products in general. Shoot, before I grew my hair long I didn't care. I used to buy the cheapest shampoo & conditioner I could possibly find, usually for $1. The idea of spending more than $10 on shampoo & conditioner would have been absurd.
If the average guy has that same mentality today, then it wouldn't make sense for the big brands to offer higher quality and thus more expensive products.
That was before the flow, and before I cared much about my hair. Once my hair got close to my shoulders I started caring more and thinking I should be using higher quality products. Thus my education into shampoo & conditioner for men began.
After what I've learned over the past seven years, I wouldn't get any of these products close to my hair...unless I was testing and reviewing them for you!
Despite knowing beforehand what to expect, I tested each one. However, because the end results were virtually the same, I didn't individually review each product and the following comments encompass my experience with all three brands:
What I found was exactly what I expected: the results were awful and consistent with other sulfate brands: dry, stripped and frazzled. I wouldn't put any of these products into my hair again—they're basically the same stuff I used to buy for $1.
If you are a guy with super short hair, or if you don't care about your hair, any of these brands could be just fine. But if you have long hair, if you are growing your hair or if you care about your hair and you want to use quality products, I do not recommend Dove Men+Care, Old Spice or Head & Shoulders.
What I can say is there is a lot of junk out there, but many fine products as well. The hair care industry is vast, and everyone is trying to carve out their little slice of the market using buzzwords, packaging and clever marketing.
After thorough research, testing and reviewing these products, this process has led us to the development of a shampoo & conditioner for guys who care about their hair and want a quality product, ideally suited for men with long hair.
In my last review, I'm proud to reveal the results of our efforts: The Longhairs Shampoo & Conditioner.
The Longhairs Shampoo & Conditioner
Finding ourselves looking to upgrade from cheap shampoo & conditioner, and searching aimlessly in the women's hair care aisle...we set out to make our own products.
Based on our experience, we identified what we wanted in a premium shampoo & conditioner line for men. From all the products we tested, we emulated the characteristics we were looking for and left out everything we didn't.
We didn't intend to develop a new, undiscovered formula with groundbreaking science or technology or anything fancy. We just wanted:
A quality formula with premium ingredients.
No sulfates and no parabens.
Hydrating and moisturizing.
A subtly masculine fragrance.
Performance for all hair types.
Honestly, it would have been easy to whip up a formula, throw in a dash of whatever we got in the ole spice cabinet, say whatever we wanted and start selling it.
Instead, much like our brand, we took the time to test, learn, understand, research and develop, until we were 100% confident we had a product we could stand behind.
We are proud to present...Epic Cleanse and Ideal Conditions.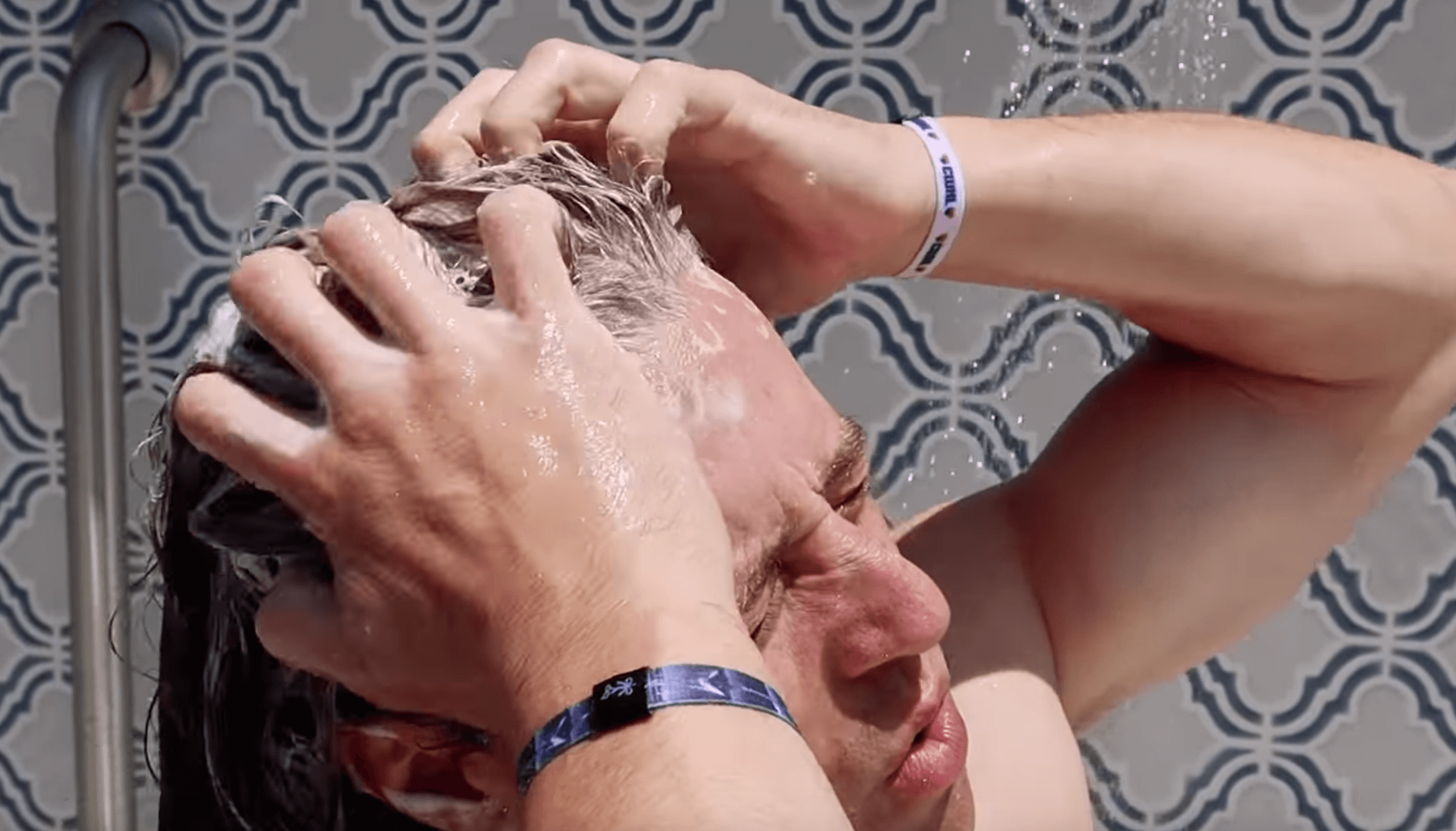 EPIC CLEANSE CONDITIONING SHAMPOO
With all the claims and marketing on the products we tested, our aim was to keep it clean, minimal and light on the fluff, while still describing the product and making it fun to read.
Here's what you'll see on the label:
EPIC CLEANSE™
Conditioning Shampoo
Monumental cleansing and hydrating performance.
Supports All Hair Types
Sulfate & Paraben Free
An epic hydrating shampoo with argan, acaí and flaxseed oils and a blend of conditioning agents that cleanse your hair and scalp while restoring its natural moisture balance.
Excellent for straight, wavy and curly hair, frizz control, and manes damaged by excessive exposure to environmental elements.
Along with directions for use and ingredients.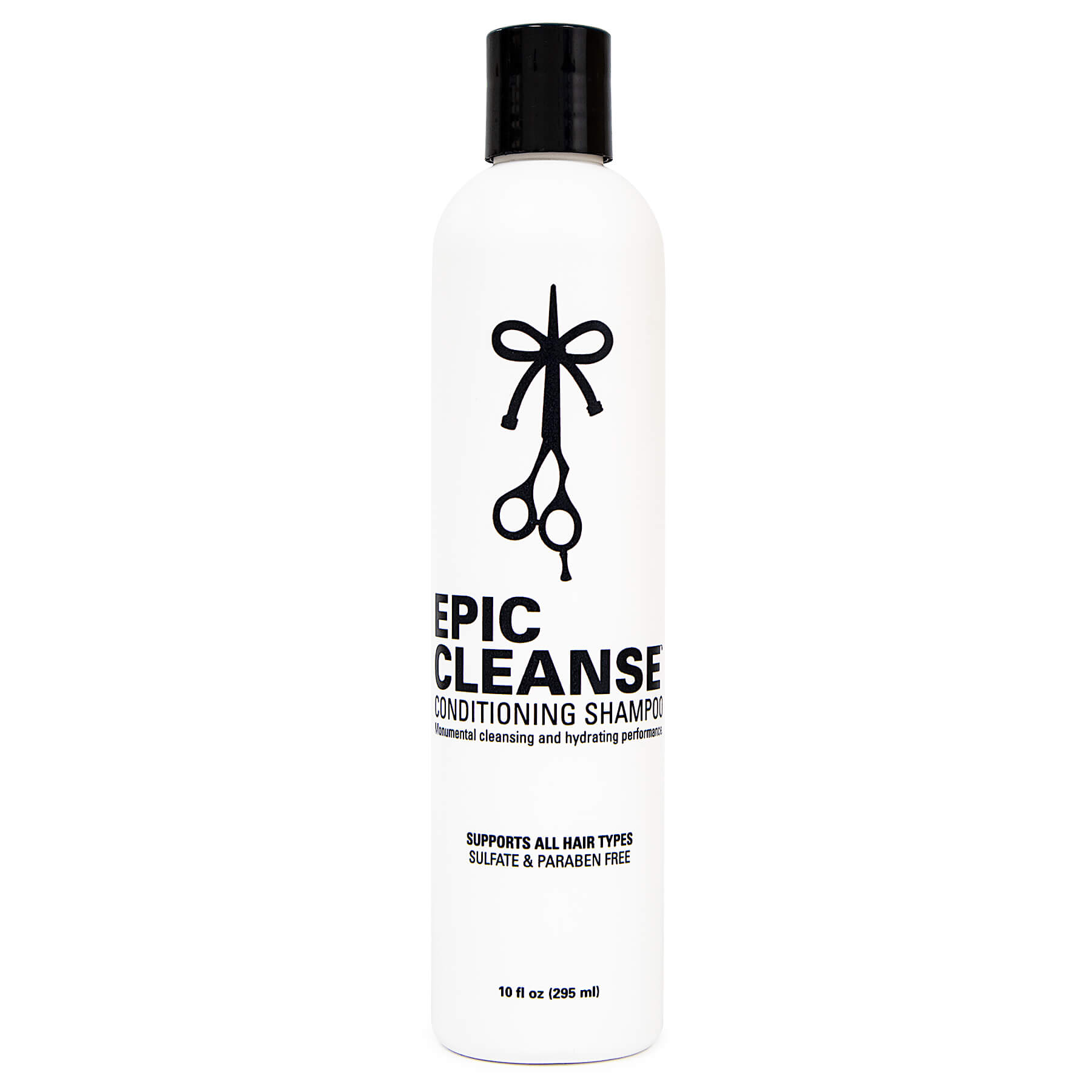 We wanted subtle, earthy and not decidedly feminine, something that would deliver an instant response of, "oh this is nice." Not an overpowering, cologne-y scent, merely a gentle reminder your hair is clean.
What we ended up with was a natural fragrance derived from the essential oils in our formula: soft and lightly citrus with notes of floral.
Opening the bottle offered a light, crisp fragrance I found quite pleasant.
Here we didn't want anything too thin. It didn't have to be ultra thick, just a substantive texture and viscosity. Color wasn't super important to us, as long as it wasn't some wacky neon shit.
What we came up with was an off-white formula, creamy but not super thick. It feels silky to the touch, and would slowly run through the cracks in your fingers.
In terms of lather, we didn't want super sudsy or foamy, as this is often achieved with sulphates.
We did want to feel it working in the hair and to provide stimulation, opting to include essential oils in the formula to enhance this experience. It was also important the shampoo rinse out completely with no buildup.
Massaging the shampoo into my scalp produced a deep, slow-building lather, not foamy, but thickening as I worked it into the roots. I could feel it completely enveloping my hair and scalp.
An emphasis was placed on hydrating and moisturizing. Why? Keeping your hair hydrated keeps it strong, healthy and resilient to breakage.
Without drying, we wanted a formula that would be thoroughly cleansing, even for active people who sweat and get dirty, but not "squeaky clean"—that rough, dry, sandpapery, chemical dry.
Lastly, we wanted it to be functional for all hair types: straight, wavy or curly; oily, dry or normal.
Using the shampoo I have to say we nailed it here. After rinsing out completely with no buildup or residue, my hair and scalp are clean and refreshed but not at all squeaky clean.
Instead of sticky and stripped it feels clean and smooth with an earthy texture, almost like I had already conditioned. Excellent performance, even used as a standalone product.
IDEAL CONDITIONS HYDRATING CONDITIONER
Much like with Epic Cleanse™, we went for clean and minimal while accurately describing the product and making it fun to read.
Here's what you'll see on the label:
IDEAL CONDITIONS™
Hydrating Conditioner
Remarkable smoothing and detangling performance.
Supports All Hair Types
Sulfate & Paraben Free
A superior conditioner with essential oils and rich, hydrating emollients. Restores moisture, elasticity and shine, resulting in stronger, more resilient hair, resistant to split ends and breakage.
Works wonders on straight, wavy and curly hair, for exceptional detangling, combing and shine.
Along with directions for use and ingredients.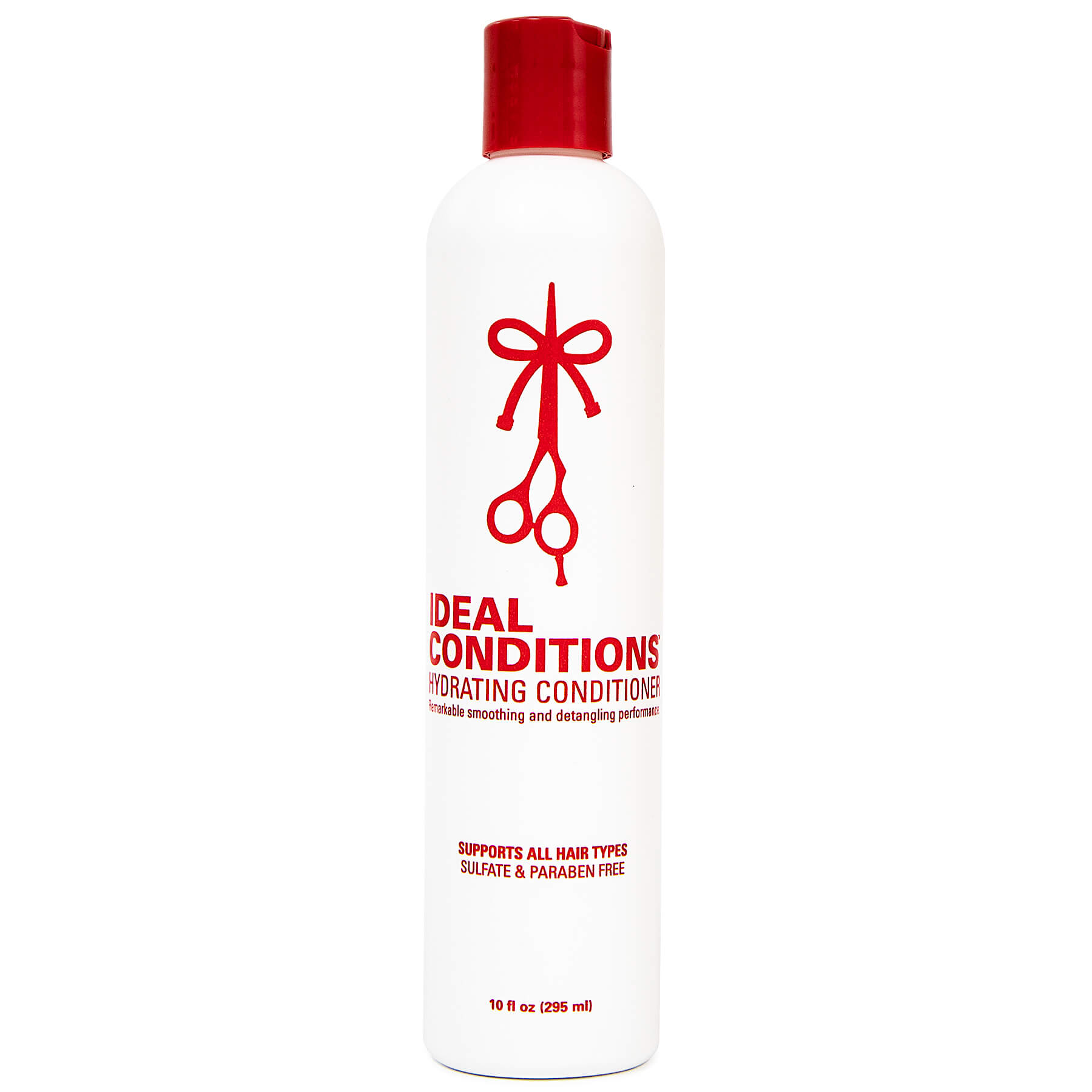 We used the same fragrance for both shampoo & conditioner, and while they smell virtually the same you can discern a slight difference between the two.
We were a bit more particular in terms of look and feel when it came to our conditioner.
With shampoo you can have a formula that builds lather as you work it into your scalp, where you want your conditioner to have texture and thickness to begin with. We wanted you to be able to feel that texture between your fingers and in your hair.
We ended up with a slightly yellowish tint, creamier and noticeably thicker than Epic Cleanse. With a thick dollp in your hand you feel the silky texture between your fingers, which would only run through the cracks if you squeezed it.
Our goal was a thick, rich formula that would coat the hair completely, where you could feel the weight and thickness in your hair while it's working, but rinse out completely with no buildup.
Slathering Ideal Conditions into the ends and lengths I could feel it enveloping my hair entirely, a big, thick, gooey mop of goodness, I'm talking texture baby!
With a long, thorough rinse and gently wringing the excess moisture, my hair is a smooth waterfall running over soft, slippery moss, virtually frictionless, like sliding naked down a waterslide filled with warm baby oil.
Drying my hair after the waterslide thing, working my fingers from the roots to the ends with the blow dryer, I'm literally shocked at how easily my fingers glide through. My hair is tangle-free and combs out effortlessly.
If you were to spend several years cultivating caterpillars from larvae to butterflies, harvesting their silk for many generations, then hand-spin the silk into the finest silk ever spun, that silk would feel like steel wire compared to how my hair feels.
It's not only soft and smooth, but it has a certain volume and shine. I can feel the softness between my fingers, and while there is no buildup, I can feel the conditioner having absorbed into my hair, almost like a protective layer.
Absolutely…..EPIC!!!
I truly believe we hit our marks and ended up with a shampoo & conditioner that stands up to the best out there. Their overall performance is as good as any brand I've tested.
If there were a brand in these reviews that's comparable, I'd say it would be the Seven brand.
Admittedly I am biased, having made the products ourselves. Even so you don't have to take my word for it, but do peruse the dozens of reviews from customers who have already been using them.
We invite you to experience a shampoo & conditioner specifically designed for guys growing their hair, knowing the thought and care that's gone into its development, and expecting the quality of a certified product of The Longhairs.