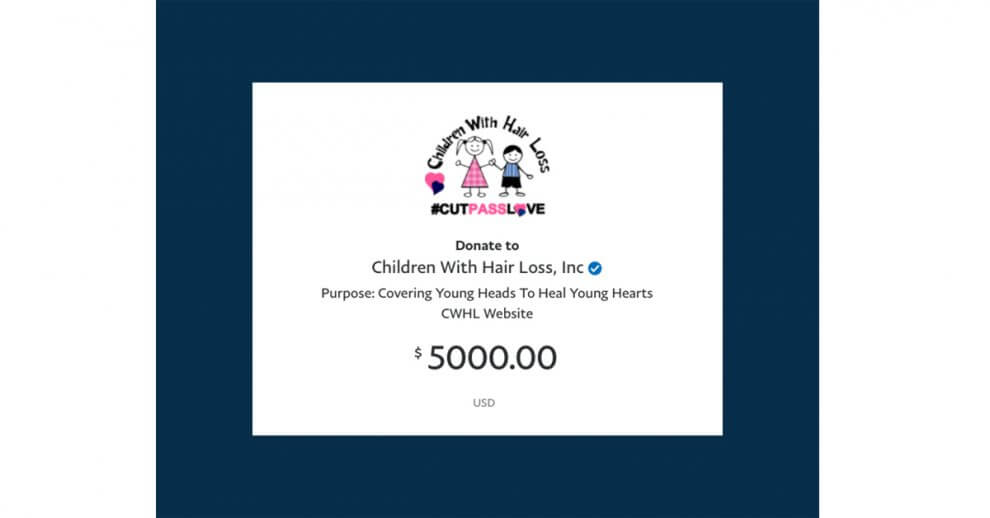 Our Giving Tuesday Donation
Thank you for placing an order with The Longhairs. As our team hammered out orders over the weekend and into this week, we were simply amazed by the number of individuals who trust in us to purchase our products.
We are truly humbled, and now it's time to give back. Today, on Giving Tuesday 2020, we made a donation of $5,000 to Children With Hair Loss.
Since establishing Longhairs Do Care in December 2015, we have donated over $50,000 directly to Children With Hair Loss. When you include our GoFundMe campaign for The Great Cut, we've caused nearly $100,000 in donations.
We're grateful to be in a position to help such a fine organization as Children With Hair Loss, and proud to run a business that gives back.
With today's donation we're adjusting how we determine our monthly giving, from $1 for every order to 1% of revenue, providing a more consistent and practical donation schedule. As The Longhairs continues to grow, so will our donations to Children With Hair Loss.
If you have the means, we invite you to lend a helping hand. Skipping the Charity Ball was a considerable setback for Children With Hair Loss, and yet they're on pace to provide a record number of hair replacements this year!
Speaking of growing your hair, we're obliged to mention The Great Cut 2024, where we will attempt to break the Guinness World Records title for the largest hair donation in history—again. We hope you'll join us.
In closing, here's a clip from the online Charity Ball presentation, with our message to the children and families affected by hair loss.