Experience the 2019 Charity Ball
On November 2, Children With Hair Loss hosted their 15th annual Charity Ball in Livonia, Michigan.
Held the first Saturday every November, the Charity Ball is where the children and their families get to meet and spend time together. For many it's the first time they meet another person with hair loss.
Spanning a weekend that includes a casual welcome dinner at the CWHL headquarters, the kids enjoy a weekend all about them. They get to dress up fancy, get their hair and makeup done, and learn how to style their eyebrows, culminating with a chance to strut their stuff on the runway—all while making friends with other kids like them.
It's a time when the attention is on them; not for being different, just for being themselves.
The Longhairs in Attendance
Joined this year by El Chuckarino and El Ciñema, The Longhairs had a full team to balance interviews, filming and logistics with mixing, meeting and fraternizing...a total gamechanger.
An experience filled with interactions between kids, parents, staff, volunteers and supporters of Children With Hair Loss, we left Michigan with a feeling like we haven't had since The Great Cut.
Most incredible perhaps was Children With Hair Loss sponsoring our flights and accommodations, recognizing The Longhairs on their big stage, and playing The Great Cut recap video for the entire audience.
In the video you'll meet the kids, hear their stories and see first-hand why The Longhairs are so grateful to be part of the Children With Hair Loss family.
Further below you can hear us reflect on the Charity Ball experience on The Longhairs Podcast.
Reflections from The Podcast
Fresh off Delta Airlines flight 229 nonstop from Detroit, the boys reflect on their second trip to the annual Children With Hair Loss Charity Ball. Listen as El Rubio, El Moreno and El Chuckarino share exactly what it felt like.
Recapping the Charity Ball weekend
What was different the second time around
El Rubio and El Moreno getting left at the podium in front of 540 guests
Announcing the kids coming out on the runway
#DevynStrong
Special thanks to El Chuckarino and El Ciñema for making the trip and representing The Longhairs.
Devyn's Fight With Cancer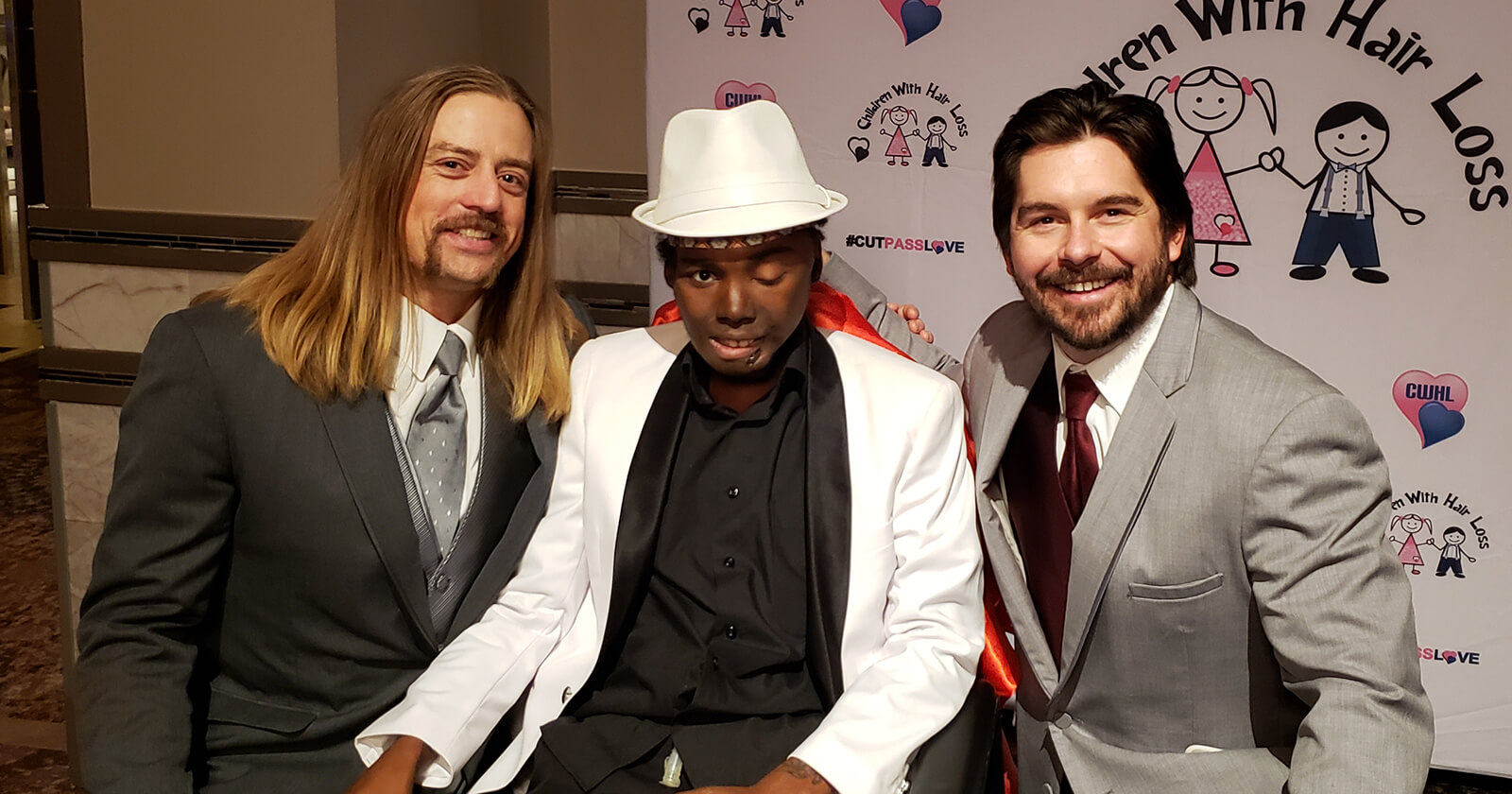 Devyn Chatman is a young man we met at the 2018 Charity Ball. Just after turning 18 years old he was diagnosed with osteosarcoma. Battling through surgeries and chemotherapy he achieved his goal of attending his senior prom and graduating from high school.
In March 2019 the cancer returned, and by September his legs had been paralyzed with tumors attacking his neck, spine and lungs.
Devyn appeared at the Charity Ball in a wheelchair, in which he took his lap on the runway to a standing ovation from the crowd. In parting, he told us when he gets better, he wants to come visit The Longhairs in San Diego. We told him we can't wait.
Devyn and his mother have set up two GoFundMe campaigns where you can learn more about his story and donate to his treatment. Please visit and make a small contribution.
Devyn's Fight With Cancer