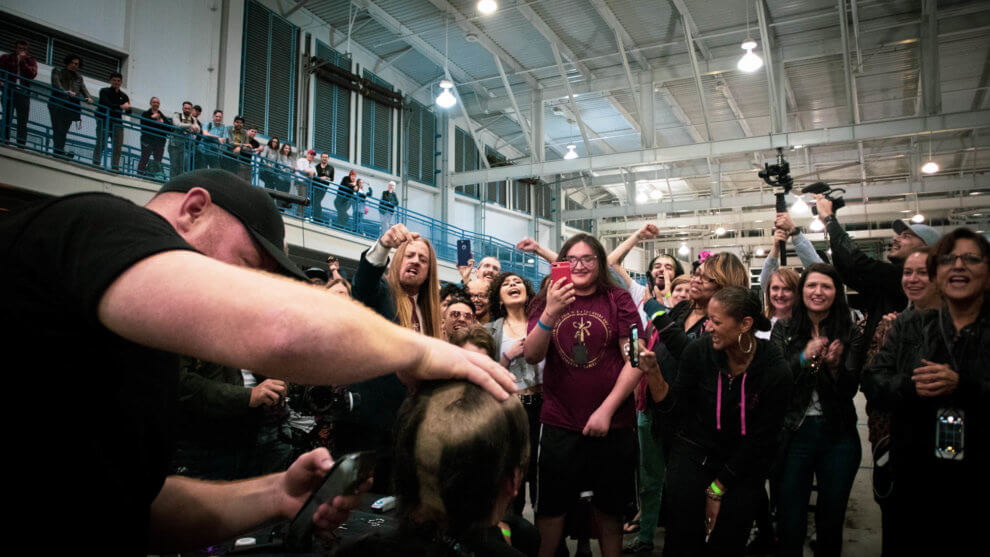 The Great Cut: 1-Year Anniversary
One Year Since the Cut of All Cuts
My son, Dylan, and I donated our hair for the first time for The Great Cut in 2019. We did a mail-in donation, as we live in South Carolina.
My son was almost 4 and it was his first haircut. We talked to him about it before we got it cut, and told him that he was going to share his hair with kids that can't grow their own hair.
He was unsure at first, but the look on his face when he was holding his beautiful baby locks was priceless. He was sharing his hair!
We miss his hair, but we're so glad we were both part of the record-breaking hair-donating event! Thanks again for the opportunity!
-Amandalyn and Dylan Hood
P.S. bath time is SOOO much easier! 😄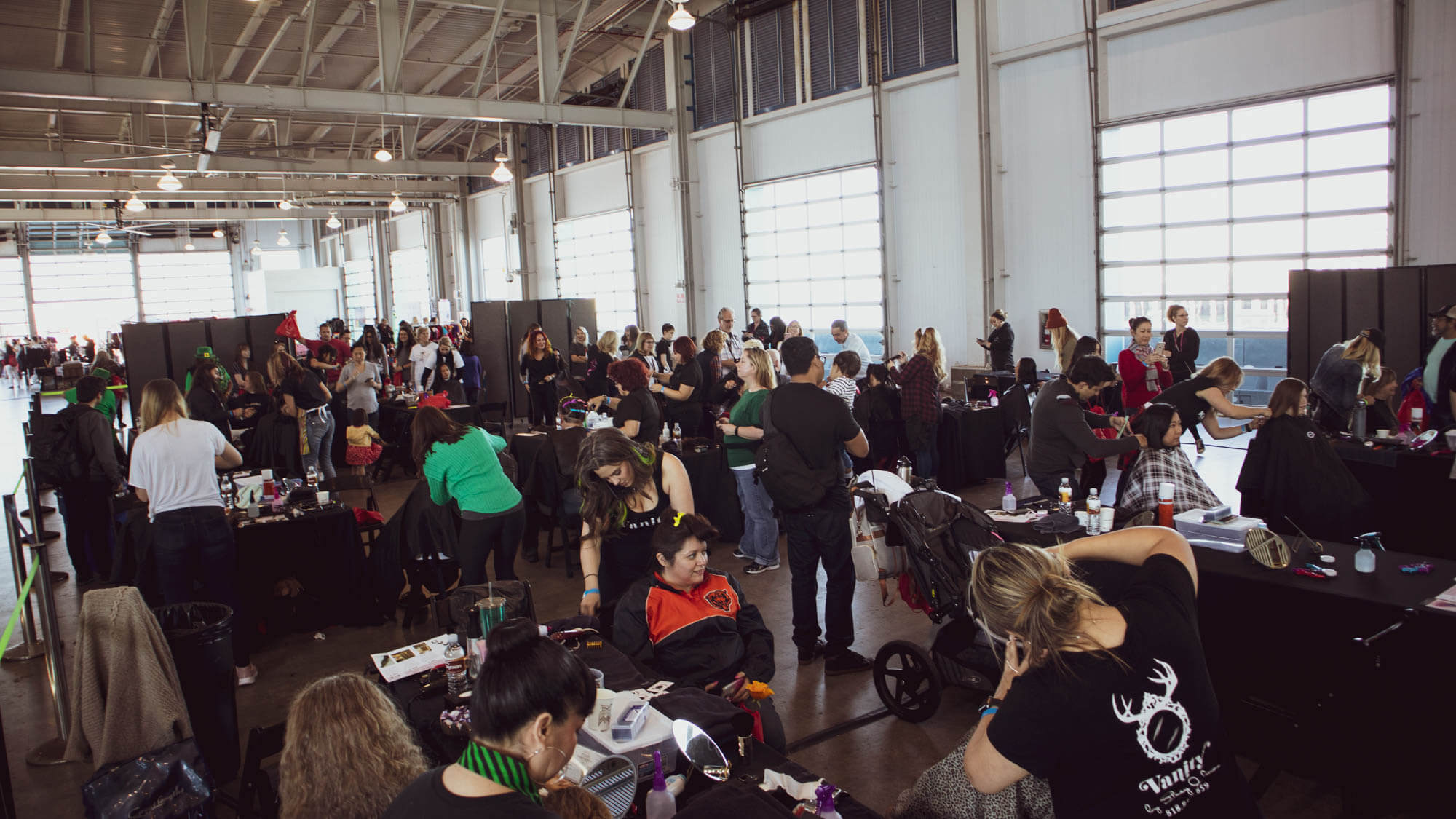 I chose to participate in The Great Cut for the opportunity to help a child in need, in honor of my Mother who succumbed to cancer. I made a promise to her that I would grow my hair for others. After all, she's the one who gave me the genes for a good head of hair.
The level of excitement was genuine, and I appreciated the generosity of all of those choosing to give their time and hair.
I plan to contribute again. I'm hoping to attend the 2024 event, and looking forward to sharing and recruiting others to participate. I have two new recruits so far.
-Rich
My daughter was eight when she donated to The Great Cut. She donated eight inches, her third time donating to Children With Hair Loss. She loves being able to help other people, especially children.
I was actually pregnant during this event, so, in 2024 not only will my daughter donate again but my baby will donate, and my boyfriend and I!
Can't wait! Such a good cause.
-Kathryn Conners
I always knew I wanted to donate when I began growing out my hair. At the time I had no idea The Longhairs even existed. I found out about The Longhairs while researching how to tie my hair up. This company has changed my whole perspective on growing out your hair and the benefits it can bring to others.
I was truly excited to donate my hair for The Great Cut. Seeing the overwhelming support The Longhairs generated was extra motivation for my own donation. I can't wait for 2024 and plan to donate every possible inch for Children With Hair Loss.
-Christopher Brady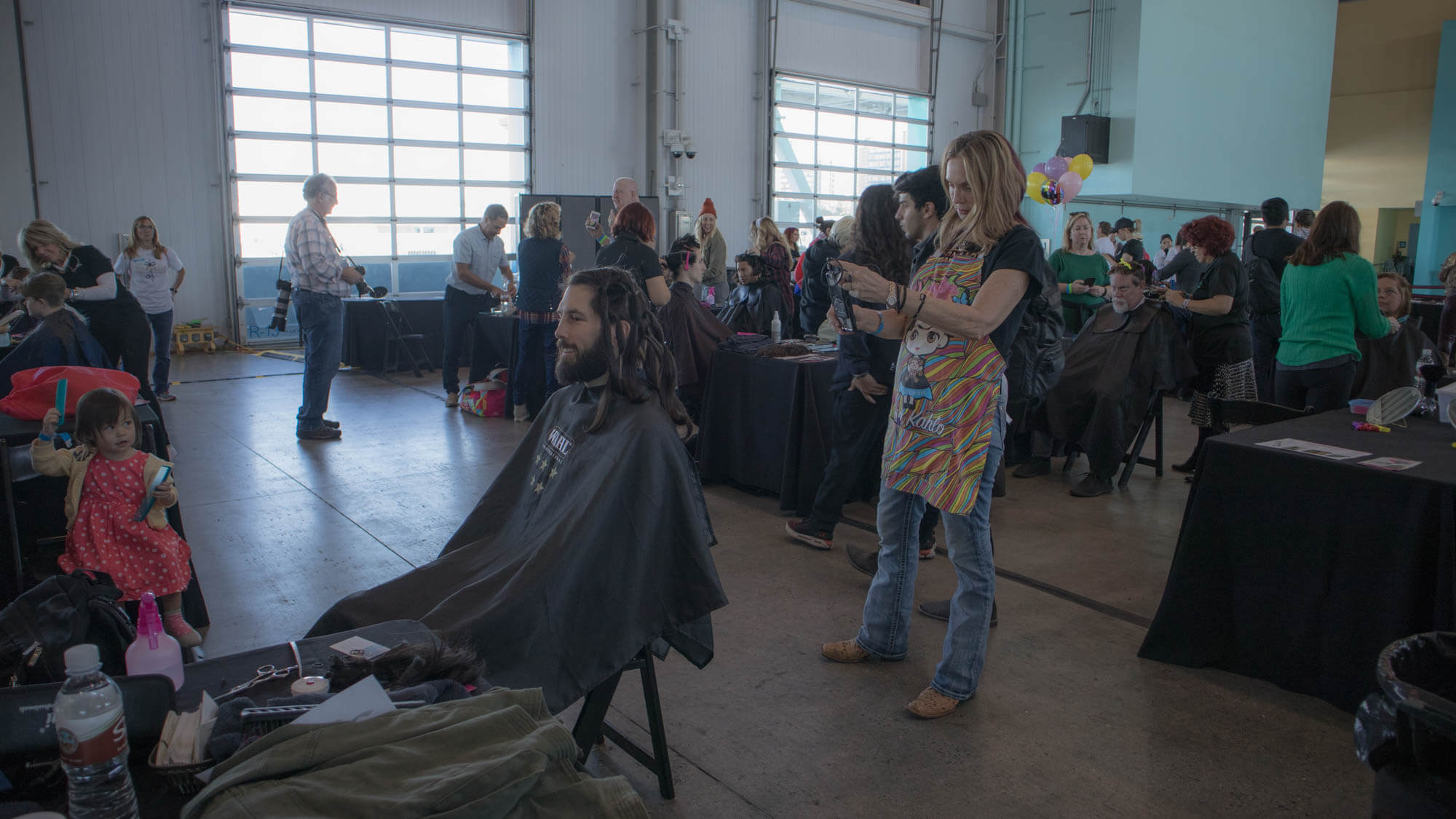 I had been a customer for quite some and I was very excited when I learned of "The Great Cut." Just a few months earlier, I started a new job that has an office in San Diego. I planned to make a 'work trip' there during the 'Cut.' Turns out I was not allowed to travel at that time, however, I did cut my hair and send it in.
To me, it was important to be involved. (I have donated my hair before but this time it felt very special.) I know that you donate to Children With Hair Loss with every purchase made. The amount of children helped is a strong achievement and example for others to follow.
I am a forever fan and customer. See you at The Great Cut 2024!
Kind Regards (and hair whips to you),
-Brad H. (El Technico)
I attended The Great Cut to support my husband, who donated. My hair was too short. I have not cut it since, it's grown about eight inches. Not cutting it until the next Great Cut, should have 40 inches by then!
See you in 2024.
-Eddi
Participating in the Great Cut was a wonderful experience for Taika. He went from a nerdy boy growing his hair out and being called girly, to a kid with a mission to grow his hair.
It's been exactly a year since he cut and donated his hair. In this year, he decided to run a hair donation drive for his Eagle Scout Project. Here in Japan, hair donations are still relatively unknown. He managed to collect more than 40 donations in six months.
Visiting The Longhairs in San Diego was a highlight of Taika's summer trip to the US. He included the photo he took with El Moreno in all his Eagle project books as well as his school graduation project.
Taika will have his Eagle Court of Honor on March 20. To be honest, I didn't think he'd make it this far this quick. Having a mission to collect hair for children in need, following in the steps of The Great Cut, made this possible.
Taika's growing his hair out again, wearing it under a Longhairs beanie every day. He says he's planning to donate again at The Great Cut 2024.
Thank you for all you do for children in need, and for encouraging young boys/men to follow their hearts and grow their hair out.
-Sarah Rumme
I donated because I had long hair and I got made fun of a lot for it, especially in high school but even into college and adulthood. I know there are kids out there who can't grow hair and get made fun of for being bald. By donating my hair, these kids can finally stop getting made fun of and be confident in their appearance.
The Great Cut was the most amazing experience of my entire life. Not only was it for an amazing cause, but being able to meet and hang out with the guys, as well as many other awesome longhaired brethren, was a dream come true.
I would absolutely do it again in a heartbeat!
Let it ride,
-Trent "El Boricua" Saumier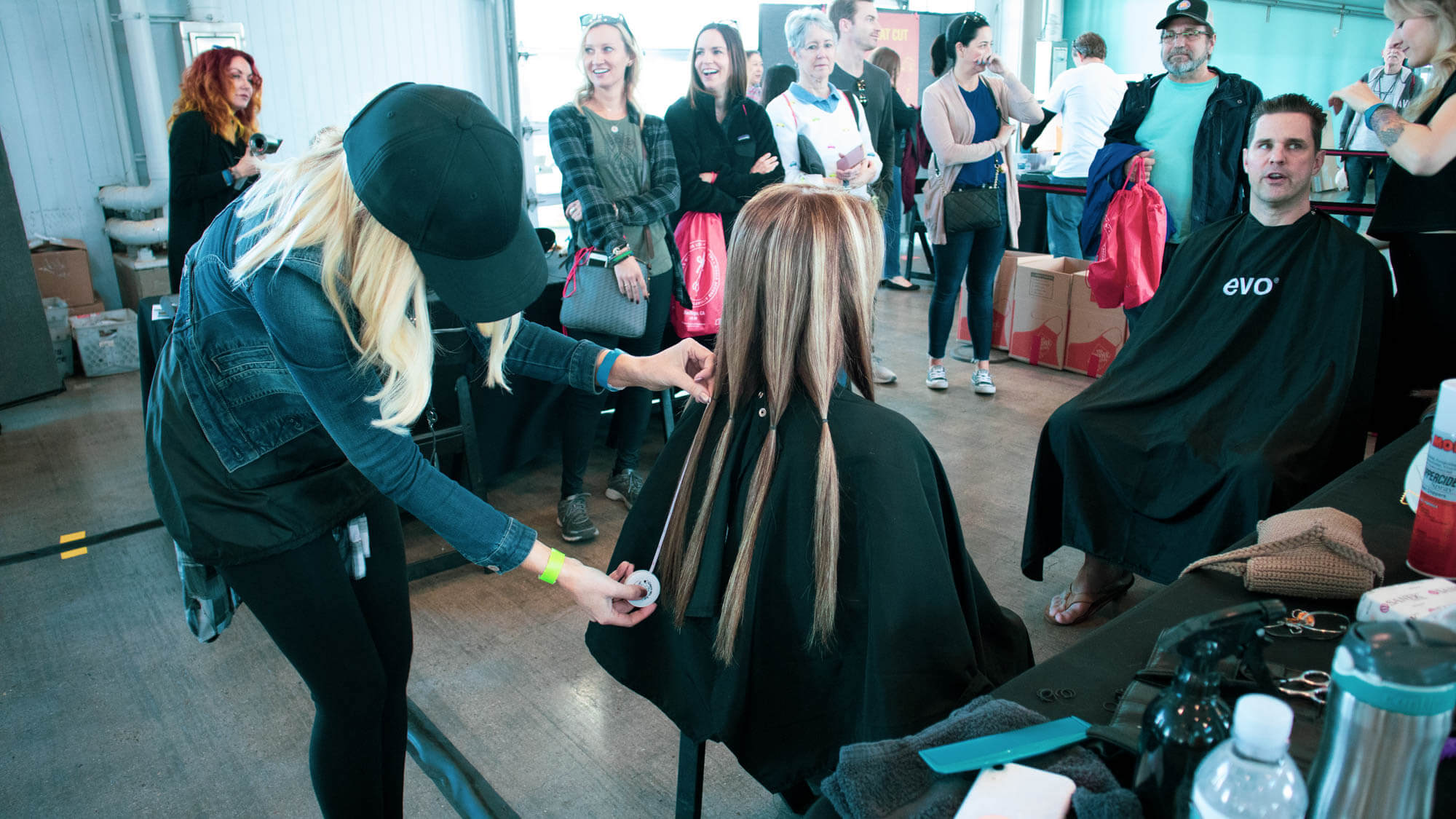 Hi Longhairs!
It's exciting to celebrate an event like this again! My donation at The Great Cut was my 5th hair donation overall, but you all made this one extremely special.
I live in Nashville, TN, so this became a destination event for me and my family. In addition to the pride that I have felt in mailing in past donations, being surrounded by hundreds of other amazing hair donors and supporters made me feel part of something greater—a community of people proud to give of themselves to others.
It was inspiring and one of my favorite days ever! I'm looking forward to seeing everyone else's updates, too.
Thank you all and see you in 2024!
-Brett Crystal
I donated to The Great Cut because I thought it was a wonderful way to give back to children.
I've been donating my hair since I was in first grade. I'll be donating again in a few months, to make my 8th overall hair donation for children. The first few donations went to an organization that makes recipients pay for wigs. I did not know that at the time and was then told about Children With Hair Loss and I have been donating to them since.
I think it's important to give back in any way we can and a way that I can personally, is by donating my hair. A few years back my doctor thought I had a form of leukemia. It was a very upsetting experience but I ended up not having it. Donating then became even more important to me because I could have potentially been a recipient if I had lost my hair from treatments.
I think it's important that kids feel confident in themselves and that if a wig or hair piece can do that then I want to continue helping them be who they were meant to be. The Great Cut was a wonderful idea and I plan on participating in it again, whether that be in person or by sending my hair donation in. Thank you all for what you do to support Children With Hair Loss.
-Miranda Fatum
I joined the Great Cut to help someone in need without vanity or recognition. Just a nameless person with a little less hair 🙂
We chose to participate in The Great Cut because, for the first time, my daughter Emma wanted short hair. She had mentioned donating her hair and of course I wanted to make sure she knew where it was going.
The Great Cut was an amazing experience and certainly a great way for my daughter to remember the first time she cut her long hair. She loved the people she got to meet and would like to continue donating her hair.
-Olivia Valcazar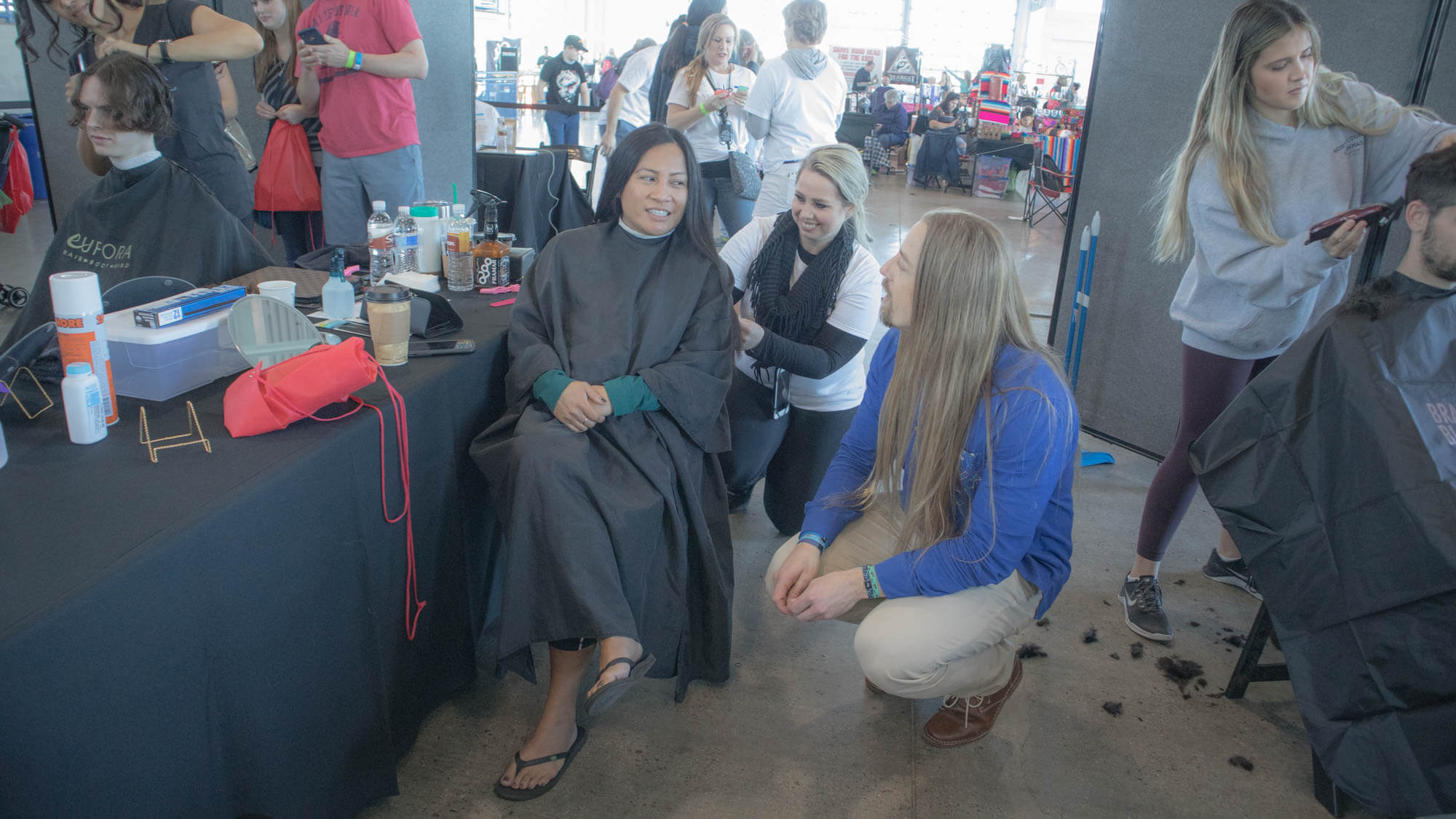 Last January I was already planning to cut my hair. I had been following The Longhairs for quite a while before then. I came across The Great Cut and I remember signing up to donate right away. I work as a nurse so helping people is right up my alley.
On the event day I drove to San Diego from Los Angeles, went to Phil's Barbecue (which is a must!😂) then drove back to L.A. My experience was amazing, the event was really nice, well put together, very positive. You could see everyone was having a good time.
I would definitely do it again! It is one of the best things I've done in my life that I will never forget. I actually already started to grow my hair 😊
-Willem Bryne Cruz
I love what you guys do for Children With Hair Loss and for the long hair community. I participated in The Great Cut because I wanted to be part of a great cause, but also to be part of an amazing world record.
My experience at first was, "do I want to cut my hair? I worked hard to grow it." Then I realized, my hair can grow back and giving it to kids is a way better reason to cut my hair.
I would definitely donate my hair again, but first I need to grow it out longer! Love The Longhairs, never change.
-Amed Aguilar
I chose to participate in The Great Cut because I thought it was going to be an awesome experience. I had donated to Children With Hair Loss once before so I knew who they were. That's how I found The Longhairs. I was going to be a part of you guys' getting into the Guinness World Records. That's pretty exciting!
I came from Houston, Texas and had never been to San Diego so that was an experience. I met Connor Wells from Europe who I can say one day "I knew him when"! I follow him on Instagram and he remembers meeting us. It was even exciting for my husband and he doesn't have long hair. I think I was just kind of star struck, giddy really. I just felt like it was being a part of something that was just really wonderful! I think what ya'll did was really great.
My 9 inches of hair only came to very little in weight but I told everyone that I was the reason ya'll won!! Sorry for taking the credit!
I had the best time telling people I was going on vacation to San Diego to get my hair cut!! People really gave me some strange looks.
Yes, I would do it again if I can grow it out.
-Kimberly Heugel
Presented at the 2019 Children With Hair Loss Charity Ball, now publicly released for the first time, we present the full-length feature video: The Story of The Great Cut.
While we reminisce on the magic from The Great Cut, we take this opportunity to kick off a new campaign. As we announced exclusively on KUSI Good Morning San Diego, we will indeed go back under the shears in 2024.
Whether our record is broken, in the Philippines or Puerto Rico or elsewhere, or we attempt to break our own record—we know it's going to take thousands of hair donations.
That means we need to be growing now. It's true we have four years, but we all know champions are made in the offseason, and hair takes time to grow.
Also, consider this: while the minimum donation is eight inches...the most valuable and sought-after donations are 14 inches and longer. So not only are we looking for more hair donations, but longer hair donations as well.
Whatever the circumstances in 2024, our mission today is spreading awareness and inspiring communities in the campaign to grow our hair.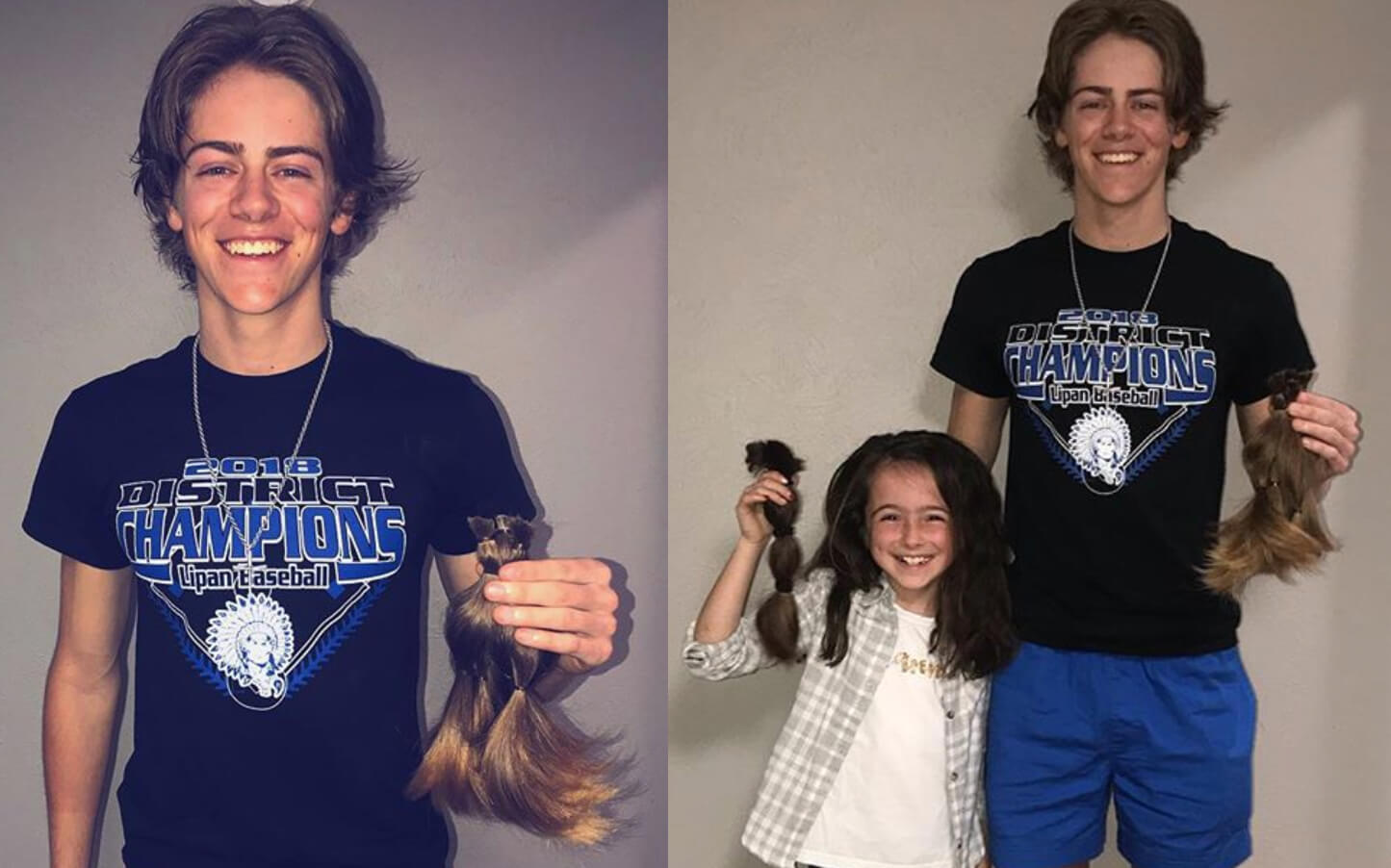 In Pursuit of Hair Equality
Not only can we spread awareness, we can use The Great Cut as a tool in the pursuit of hair equality—much like the case of Cole Taylor, who was granted leniency from his high school grooming code, which ultimately led to the policy being changed entirely.
Likewise, we can push the barriers in the workplace. Where grooming policies still prohibit long hair, we can write a dear boss letter, appealing to The Great Cut for an exception to the rule.
With small gains like these we can build momentum. One kid at school with long hair, or one professional at a finance firm going through the awkward stage...sets long hair in the minds of his peers and contemporaries.
Above all, think of all the people who might grow their hair if they had a reason. If The Great Cut can be that reason... all the more hair to be donated.
To ring in our campaign we are proud to introduce these new "Growing My Hair to Donate" t-shirts for The Great Cut 2024.
All designs are available in men's, women's and children's sizes with multiple color options.
Demonstrate your commitment to The Great Cut 2024 with a bold statement of purpose, alongside the bound shears underlaid with a flow pattern for the hair we are growing to donate.
Make a statement that couldn't be any less political with a campaign we can all agree on: growing our hair to donate at The Great Cut 2024.