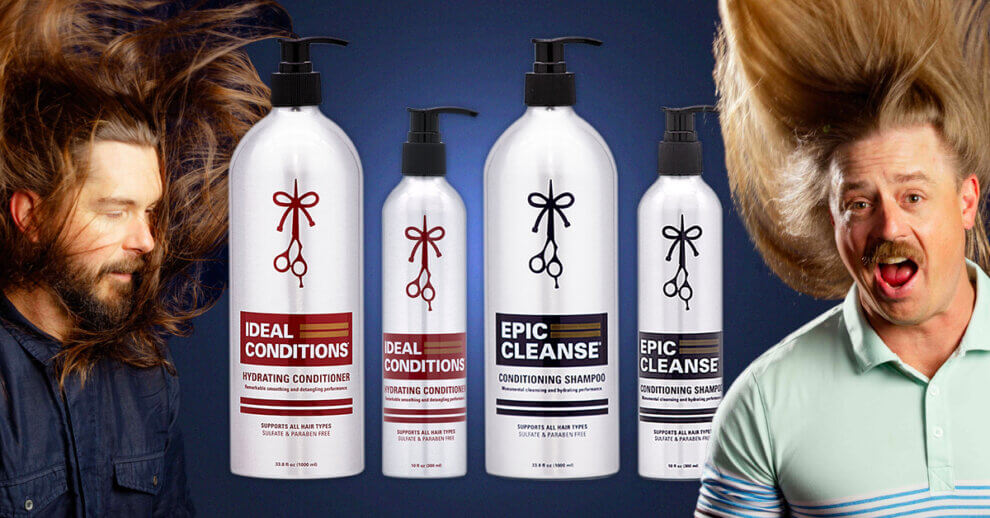 No Burning Questions About Shampoo & Conditioner Ingredients
We actually don't get that many questions about our shampoo & conditioner ingredients. Most hair enthusiasts simply try Epic Cleanse & Ideal Conditions and discover they've found their one true love in hair care.
There is the occasional skeptic who doesn't yet know us for who we are, understandable considering the number of companies selling trashy products at premium prices.
Because our first two core values are do things right and do the right things, we invested the time and energy to research, test, learn and understand the importance of shampoo & conditioner ingredients, as documented in The Shampoo & Conditioner Review from a Guy Who Actually Used the Shampoo & Conditioner.
That's how we started developing men's long hair care; below you'll find all our shampoo & conditioner ingredients and why they all add up to Epic Cleanse & Ideal Conditions.
Whether you memorize them or can't even pronounce them is not as important as the fact we stand by our ingredients, and we wouldn't sell shampoo & conditioner if we didn't use it on our own manes. You don't have to believe us…but the locks don't lie.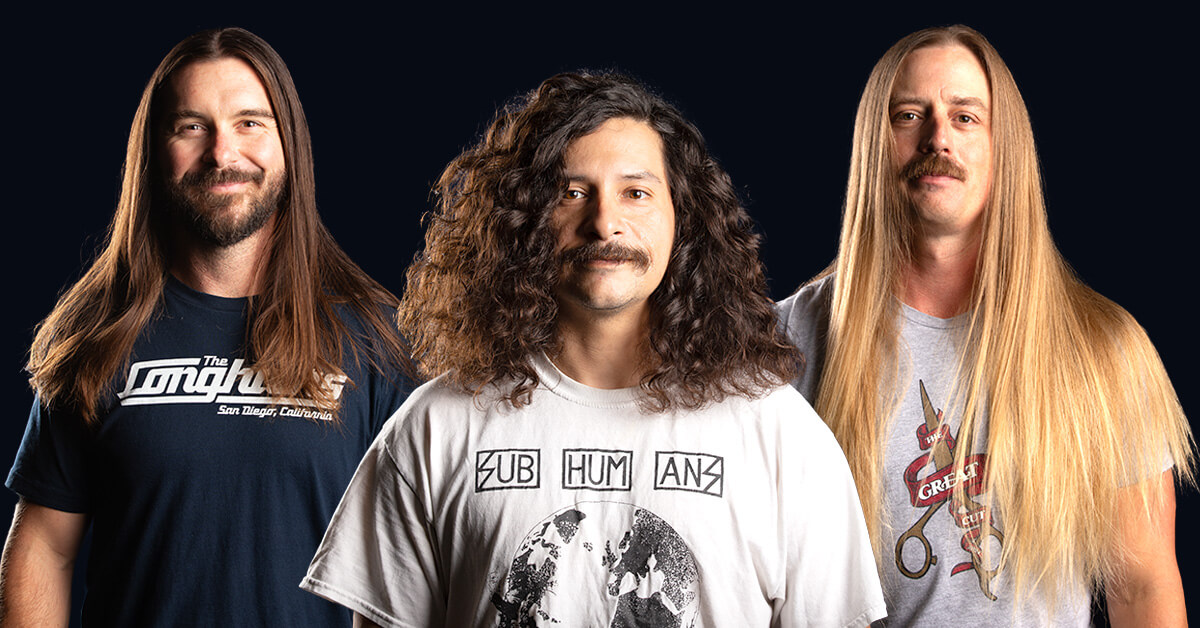 The most common and widely-used ingredient in cosmetic and skin care products, water primarily functions as a solvent to dissolve other ingredients.
A mild surfactant that functions as a gentle cleansing agent, coco-glucoside is the result of a chemical reaction between glucose and the fatty alcohol in coconut oil.
Disodium Cocoamphodiacetate
Another mild surfactant derived from the fatty acids in coconut oil, disodium cocoamphodiacetate works as a cleanser and foam booster.
Also derived from coconut oil, cocamidopropyl betaine is a cleansing surfactant offering lather, hydration and viscosity, while increasing the effectiveness of other ingredients.
Sodium Cocoyl Isethionate
An extremely gentle cleansing surfactant derived from the sodium salt ester of coconut oil and isethionic acid. High foaming ability, rich lather, super mild.
This one is a mouthful but it's a copolymer of acrylic acid and methacrylic acid crosslinked with trimethylolpropane triacrylate. It's an emulsion stabilizing agent, allowing ingredients to mix well together.
A diester of stearic acid and ethylene glycol, it's an opacifier, reducing the shampoo's translucency, while offering a pearlescence or "pearling" effect.
That fresh and long-lasting but not overpowering with hints of everyone mentioning how great your hair smells all day.
An alkaline compound used to adjust pH levels, aminomethyl propanol also helps improve the penetration of other ingredients into the hair shaft.
A quaternary ammonium compound, Q-91 brings hair conditioning and softening to the formula table.
PPG-3 Benzyl Ether Myristate
An ester of myristate and propylene glycol, the PPG creates a thin film on the hair shaft, smoothing out its surface texture, reducing tangles and adding gloss and shine.
This silicone-based polymer is used as a conditioning agent to add a smooth, silky texture, provide slip, reduce friction and prevent tangling. Also coats the hair to seal in hydration and prevent frizz.
A modified derivative of dimethicone, blended with pure dimethicone to stabilize and enhance its functions.
Guar Hydroxypropyltrimonium Chloride
A quaternary ammonium derivative of guar gum, this water-soluble organic compound functions as a conditioning and detangling agent.
This synthetic polymeric reduces static electricity to help keep flyaways at bay.
Used for skin and hair care for many decades, glycerin is a naturally occurring alcohol compound also found in our skin. It provides deep conditioning and hydration, helping the hair retain moisture, reducing damage and breakage.
Argania Spinosa (Argan) Kernel Oil
Often called Moroccan argan oil for the argan tree that grows predominantly in Morocco. The oil pressed from the kernel of the argan fruit is rich in unsaturated fatty acids, functioning as a superior conditioning agent—which is why we use it in our
hair serum.
Euterpe Oleracea (Açaí) Fruit Oil
Another deep conditioner derived from the fruit of the açaí palm tree.
We can pronounce it so you don't have to, this conditioning agent and humectant can actually pull moisture from the air and retain it within the hair shaft.
Hydroxypropylammonium Gluconate
Blended with hydroxypropylgluconamide to form the patented hair-strengthening
ingredient used throughout our hair care line. which penetrates deep into the hair cortex, repairing damage, reducing breakage and shown to increase hair strength up to 3X.
Linum Usitatissimum (Linseed) Seed Oil
Also known as flaxseed oil, linseed oil is yet another rich source of fatty acids, functioning as a penetrating conditioner.
A compound of amino acids, peptides and proteins that moisturizes and repairs damage with film-forming properties.
Another conditioning agent with hair strengthening qualities, derived from the soybean plant.
A form of vitamin E offering UV protection with hydrating properties.
The sodium salt of benzoic acid, sodium benzoate is used as a preservative in foods, drinks, pharmaceuticals and personal care products to prevent fungal and bacterial growth.
Another preservative, potassium sorbate is combined with sodium benzoate to increase both ingredients' effectiveness in preventing yeast and mold, keeping your shampoo fresh and extending its shower life.
An alpha hydroxy acid derived from citrus fruits, used to balance pH levels while acting as a chemical exfoliator to help remove dead skin cells from the scalp.
See EPIC CLEANSE and over 70% of the earth.
A mixture of cetyl and stearyl alcohols, cetearyl alcohol functions as an emulsifier, preventing the oils and liquids in the conditioner from separating and helping maintain its consistency.
Another stabilizing emulsifier that helps the ingredients mix nicely and stay mixed, ceteareth-20 is a modified version of cetearyl alcohol.
Used as a conditioning agent to reduce static and frizz, behentrimonium chloride is a quaternary ammonium salt derived from the seeds of the yellow-flowered rapeseed.
A film-forming conditioning and thickening agent, P-37 is a cationic polymeric quarternary ammonium compound derived from natural cellulose.
Propylene Glycol Dicaprylate/Dicaprate
A diester of propylene glycol and fatty acids, this emollient gives your hair a soft, dry, non-greasy feel.
A lightweight, silicone-based polymer, amodimethicone offers long-lasting conditioning, detangling and shine, while protecting damaged hair.
Guar Hydroxypropyltrimonium Chloride
See EPIC CLEANSE.
This quaternary ammonium salt works as a light conditioning agent and static-inhibitor, while also preventing the growth of microorganisms and functioning as a preservative.
PPG-3 Benzyl Ether Myristate
See EPIC CLEANSE.
Olea Europea (Olive) Fruit Oil
It's olive oil, derived from the olive tree, rich in fatty acids for hydration and nourishment, great for your salad.
Argania Spinosa (Argan) Kernel Oil
See EPIC CLEANSE.
Euterpe Oleracea (Açaí) Fruit Oil
See EPIC CLEANSE.
Linum Usitatissimum (Linseed) Seed Oil
See EPIC CLEANSE.
Another PPG emulsifier that functions as a stabilizing and thickening agent, made in part by the reaction of ethylene oxide and tridecyl alcohol.
A light, non-greasy, silicone-based polymer with excellent hydrating and moisturizing properties that forms a protective film on the hair shaft.
A surfactant, trideceth-12 is a mixture of polyethylene glycol and tridecyl alcohol, functioning as a cleansing agent while preventing buildup.
Hydroxypropylammonium Gluconate
See EPIC CLEANSE.
This silicone-based cyclic compound evaporates quickly, providing glide, detangling and silky feel, and combines with dimethicone to form a protective, breathable layer, preventing breakage.
An alcohol derivative of pantothenic acid, also known as vitamin B5, panthenol works as a conditioning agent to enhance shine and softness.
The Dream Team of Shampoo & Conditioner Ingredients
If you had spent many hours researching and testing and had to come up with the dream list of shampoo & conditioner ingredients, barring some anomaly or misunderstanding, you'd almost certainly come up with the list right here on this page.
Now when your friends and loved ones ask why you're so infatuated with your shampoo & conditioner, you can point to your favorite specific ingredients and their functions presented here…or you can just say it's because your hair looks amazing.