The Longhairs Shampoo & Conditioner
Finding ourselves looking to upgrade from cheap shampoo & conditioner, and searching aimlessly in the women's hair care aisle...we set out to make our own products.
Based on our experience, we identified what we wanted in a premium shampoo & conditioner line for men. From all the products we tested, we emulated the characteristics we were looking for and left out everything we didn't.
We didn't intend to develop a new, undiscovered formula with groundbreaking science or technology; we didn't try to do anything fancy. We just wanted:
A quality formula with premium ingredients.
No sulfates and no parabens.
Hydrating and moisturizing.
A subtly masculine fragrance.
Performance for all hair types.
Honestly, it would have been easy to whip up a formula, throw in a dash of whatever we got in the ole spice cabinet, say whatever we wanted and start selling it.
Instead, much like our brand, we took the time to test, learn, understand, research and develop, until we were 100% confident we had a product we could stand behind.
We are proud to present...Epic Cleanse and Ideal Conditions.
EPIC CLEANSE CONDITIONING SHAMPOO
With all the claims and marketing on the products we tested, our aim was to keep it clean, minimal and light on the fluff, while still describing the product and making it fun to read.
Here's what you'll see on the label:
EPIC CLEANSE™
Conditioning Shampoo
Monumental cleansing and hydrating performance.
Supports All Hair Types
Sulfate & Paraben Free
An epic hydrating shampoo with argan, acaí and flaxseed oils and a blend of conditioning agents that cleanse your hair and scalp while restoring its natural moisture balance.
Excellent for straight, wavy and curly hair, frizz control, and manes damaged by excessive exposure to environmental elements.
Along with directions for use and ingredients.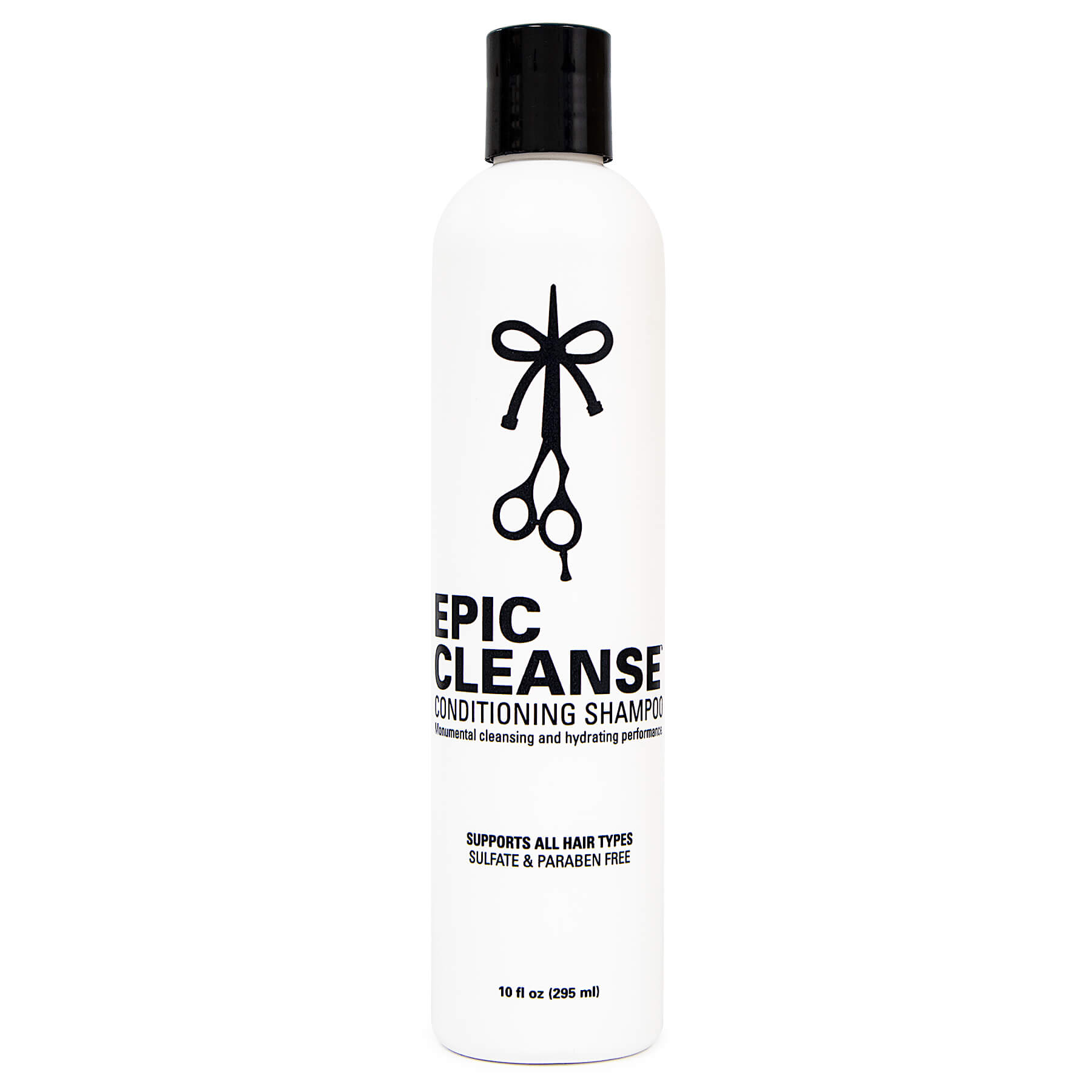 We wanted subtle, earthy and not decidedly feminine, something that would deliver an instant response of, "oh this is nice." Not an overpowering, cologne-y scent, merely a gentle reminder your hair is clean.
What we ended up with was a natural fragrance derived from the essential oils in our formula: soft and lightly citrus with notes of floral.
Opening the bottle offered a light, crisp fragrance I found quite pleasant.
Here we didn't want anything too thin. It didn't have to be ultra thick, just a substantive texture and viscosity. Color wasn't super important to us, as long as it wasn't some wacky neon shit.
What we came up with was an off-white formula, creamy but not super thick. It feels silky to the touch, and would slowly run through the cracks in your fingers.
In terms of lather, we didn't want super sudsy or foamy, as this is often achieved with sulphates. We did want to feel it working in the hair and to provide stimulation, opting to include essential oils in the formula to enhance this experience. It was also important the shampoo rinse out completely with no buildup.
Massaging the shampoo into my scalp produced a deep, slow-building lather, not foamy, but thickening as I worked it into the roots. I could feel it completely enveloping my hair and scalp.
An emphasis in our product development was placed on hydrating and moisturizing. Why? Keeping your hair hydrated keeps it strong, healthy and resilient to breakage.
Without drying, we wanted a formula that would be thoroughly cleansing, even for active people who sweat and get dirty, but not "squeaky clean"—that rough, dry, sandpapery, chemical dry.
Lastly, we wanted it to be functional for all hair types: straight, wavy or curly; oily, dry or normal.
Using the shampoo I have to say we nailed it here. After rinsing out completely with no buildup or residue, my hair and scalp are clean and refreshed but not at all squeaky clean.
Instead of sticky and stripped it feels clean and smooth with an earthy texture, almost like I had already conditioned. Excellent performance, even used as a standalone product.
IDEAL CONDITIONS HYDRATING CONDITIONER
Much like with Epic Cleanse™, we went for clean and minimal while accurately describing the product and making it fun to read.
Here's what you'll see on the label:
IDEAL CONDITIONS™
Hydrating Conditioner
Remarkable smoothing and detangling performance.
Supports All Hair Types
Sulfate & Paraben Free
A superior conditioner with essential oils and rich, hydrating emollients. Restores moisture, elasticity and shine, resulting in stronger, more resilient hair, resistant to split ends and breakage.
Works wonders on straight, wavy and curly hair, for exceptional detangling, combing and shine.
Along with directions for use and ingredients.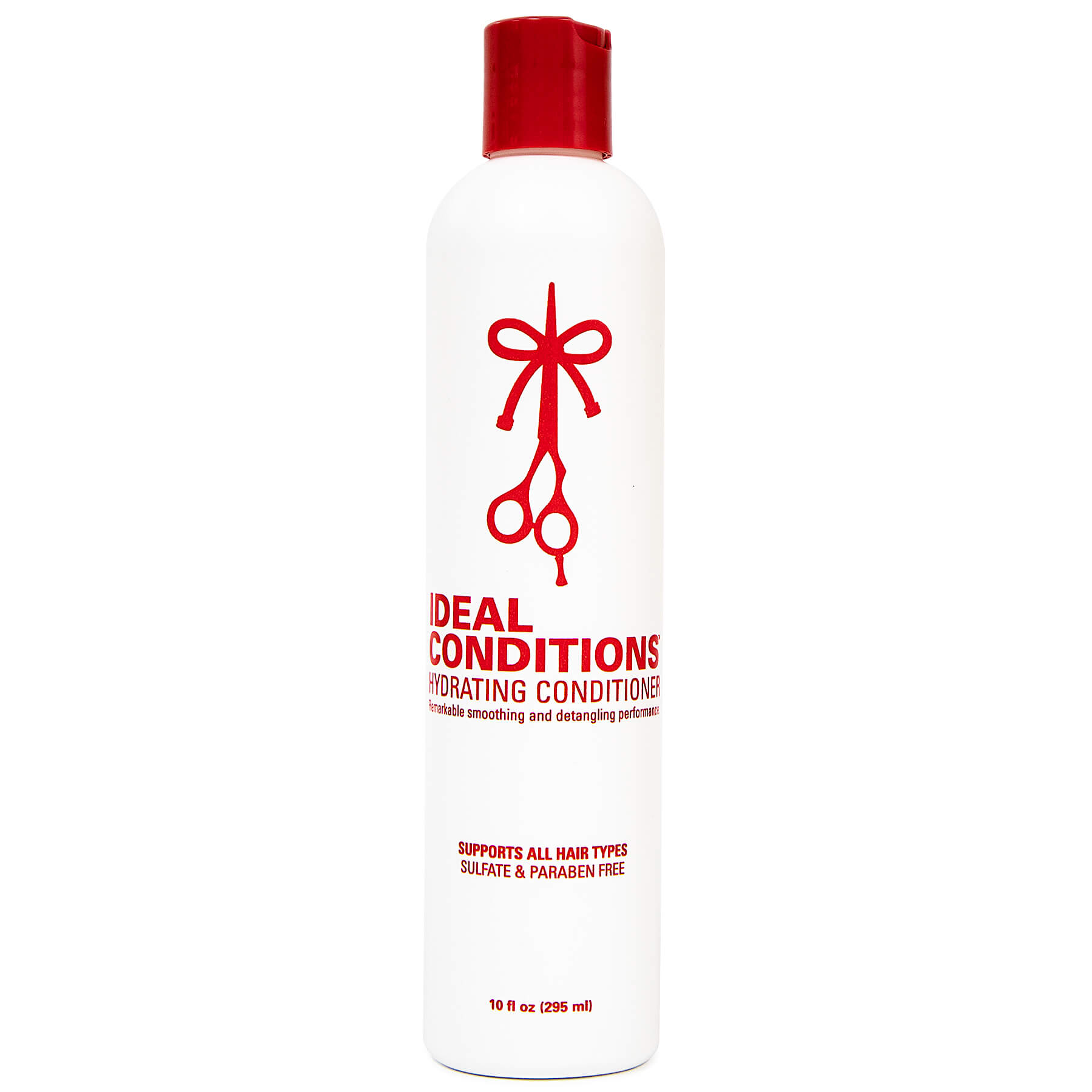 We used the same fragrance for both shampoo & conditioner, and while they smell virtually the same you can discern a slight difference between the two.
We were a bit more particular in terms of look and feel when it came to our conditioner.
With shampoo you can have a formula that builds lather as you work it into your scalp, where you want your conditioner to have texture and thickness to begin with. We wanted you to be able to feel that texture between your fingers and in your hair.
We ended up with a slightly yellowish tint, creamier and noticeably thicker than Epic Cleanse. With a thick dollp in your hand you feel the silky texture between your fingers, which would only run through the cracks if you squeezed it.
Our goal was a thick, rich formula that would coat the hair completely, where you could feel the weight and thickness in your hair while it's working, but rinse out completely with no buildup.
Slathering Ideal Conditions into the ends and lengths I could feel it enveloping my hair entirely, a big, thick, gooey mop of goodness, I'm talking texture baby!
With a long, thorough rinse and gently wringing the excess moisture, my hair is a smooth waterfall running over soft, slippery moss, virtually frictionless, like sliding naked down a waterslide filled with warm baby oil.
Drying my hair after the waterslide thing, working my fingers from the roots to the ends with the blow dryer, I'm literally shocked at how easily my fingers glide through. My hair is tangle-free and combs out effortlessly.
If you were to spend several years cultivating caterpillars from larvae to butterflies, harvesting their silk for many generations, then hand-spin the silk into the finest silk ever spun, that silk would feel like steel wire compared to how my hair feels.
It's not only soft and smooth, but it has a certain volume and shine. I can feel the softness between my fingers, and while there is no buildup, I can feel the conditioner having absorbed into my hair, almost like a protective layer.
Absolutely…..EPIC!!!
I truly believe we hit our marks and ended up with a shampoo & conditioner that stands up to the best out there. Their overall performance is as good as any brand I've tested.
If there were a brand in these reviews that's comparable, I'd say it would be the Seven brand.
Admittedly I am biased, having made the products ourselves. Even so you don't have to take my word for it, but do peruse the dozens of reviews from customers who have already been using Epic Cleanse and Ideal Conditions.
We invite you to experience a shampoo & conditioner specifically designed for guys growing their hair, knowing the thought and care that's gone into its development, and expecting the quality of a certified product of The Longhairs. 
For a limited time, save six bucks and get the set for only $30.