A Swanky Holiday Mixer + Hair Ties For Guys Launch Party
---
Please join us in celebrating the long-awaited and much-anticipated launch of Hair Ties For Guys, in our favorite neighborhood, during our favorite time of year.
Friday, December 11
98 Bottles
2400 Kettner Boulevard in San Diego
6:00 – 10:00 pm
Exclusive
This is a private event. Only 100 150 tickets are available. Only 6 tickets left!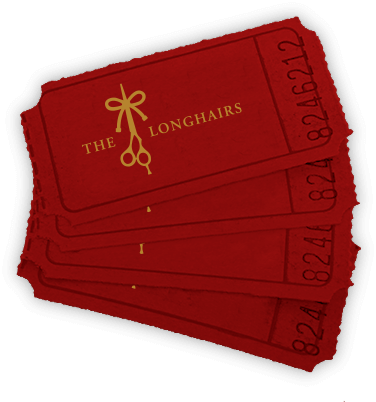 Your Ticket Includes
Musical Entertainment
A Specialty Holiday Cocktail
Appetizers From Little Italy Businesses
A Special Gift From The Longhairs
You'll Also Enjoy
The Global Release of Hair Ties For Guys
Raffle with Wares from Little Italy Businesses
Longhairs Merchandise
Spirited Merriment
Hair Ties For Guys
Conceived on a fateful car ride in April 2014, Hair Ties For Guys was the idea that sparked the evolution of The Longhairs.
Stemming from the notion that men shouldn't have to use the same hair ties as their little sister, or purchase them from the women's hair care aisle, we recognized the glaring need for a superior men's hair tie.
Hair Ties For Guys are thicker, stronger, durable—yet remarkably gentle on the hair. Adorned with lightning bolts and surfboards, crosshairs and camouflage, stiff martinis and gnarly rastafarian designs, others still are emblazoned with the stars and stripes of Old Glory.
They are the next evolution of hair ties for men. But can women buy them? Hell yes, for your boyfriend, and tell him to start growing his hair out.
Get Your Tickets
The Longhairs
The Longhairs is a global community whose mission is to advocate, educate and celebrate long hair on men.
"The best thing invented for men since the boxer brief"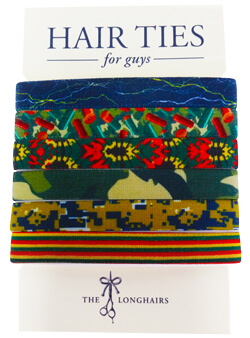 98 Bottles
98 Bottles is a favorite neighborhood tavern and entertainment venue, located in the same building as The Longhairs Global Headquarters.
As friends and supporters, 98 Bottles has been home to numerous strategic longhair meetings and gatherings, and was the site of our infamously secretive Hair Ties For Guys video.
Music

You want to go to a crackin' holiday party.

Drinks

You can expect to have a f—ing great time.

Gifts

You want to get your hands on a fresh new pack of Hair Ties For Guys.
Community

Friends and family, Little Italy and San Diego community, and Longhairs of the world unite.

Love

Show some love and support.

Long Hair

Please, leave your scissors at home.
Tickets
Please purchase your tickets early, there are a limited quantity and they will sell out. Only 6 tickets remaining! (12/11)
---
We thank our San Diego Business Sponsors